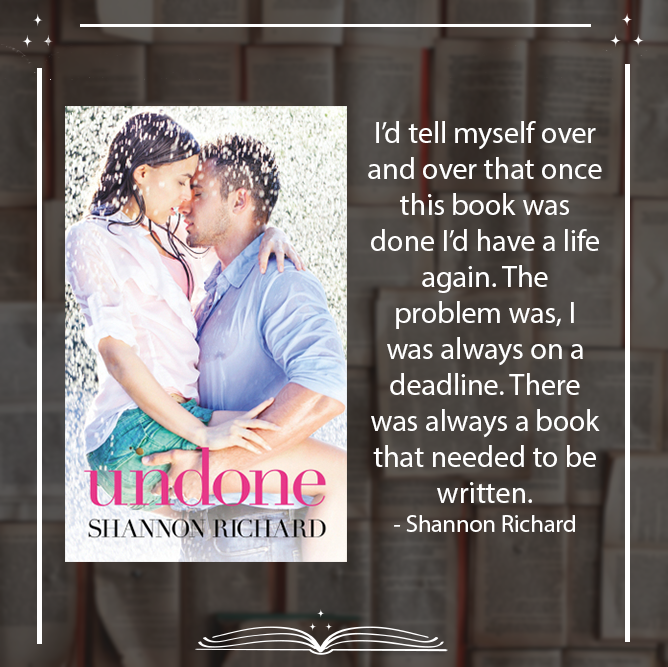 Shannon Richard is still looking for her Mr. Right, but in the meantime, writes love stories to indulge her overactive imagination. She has no shame about the amount of reality TV she indulges in, listens to entirely too many podcasts, and firmly believes that a glass of wine should always be filled to the top.
Join us for Part 2 of our interview with contemporary romance novelist Shannon Richard (read Part 1 here), Shannon reveals what led to her taking a breather from a break-neck novel-writing pace and how she's getting back into the groove. She also tips us off about authors that inspired her to write, and what her favorite "page-turners" are. –Maxine Shen
How have you been able to maintain your writing discipline while also holding down a day job?
Okay, so, here is the thing: my discipline in the last couple of years has dropped off. A lot. And has maybe been nonexistent at some points. I think I went so hard into writing at the beginning that I burned myself out. There were years where I lived in this dark little writer's cave and I'd barely come out into the sunshine. I'd work my day job Monday-Friday, getting a few hundred words in here or there where I could during the week. When I'd get off work for the weekend, my only stop was the grocery store before I'd get home and immediately go into writer's mode. I wouldn't leave all weekend. I'd spend the whole time just trying to get words on the page. I had a deadline that I had to meet, and I'd tell myself over and over that once this book was done I'd have a life again. The problem was, I was always on deadline. There was always a book that needed to be written.
Read More »

An Interview with Shannon Richard Part 2