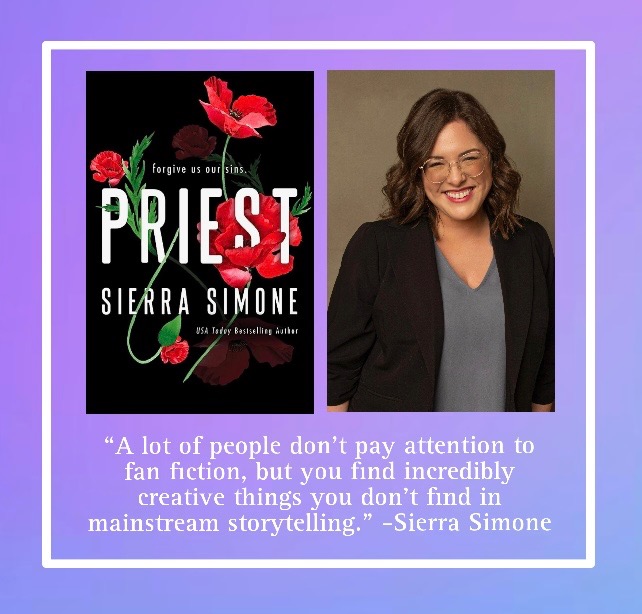 I sat down with hybrid author, Bethany Hagen, whose tenure boasts a whopping 28 books under her pen name, Sierra Simone. She began as a traditionally published YA author, and broke out into indie publishing when she decided she wanted to explore writing romance and erotica. Her books include the ever-popular spicy BookTok-recommended Priest, the dark and twisted Thornchapel quartet, and my personal favorite, Misadventures of a Curvy Girl.
We discussed the merits of traditional versus indie publishing, her thoughts on writing YA versus adult fiction, and how marginalized voices can be amplified outside of the traditional mold of storytelling.
Q: It's so great to be meeting with you today! I have to start by asking, what made you decide to become a romance writer?
Sierra: I actually got my start writing YA fiction.
Q: Why the change?
Sierra: It was an organic evolution of moving from YA to adult writing. I worked as a librarian after getting my creative writing degree. I got my first publishing deal at 24/25, and since I was so young, I had no experience advocating for myself or having an anchored creative identity. So I got this publishing deal right as Penguin & Random House had their big merger. My contract got cut short because they were trimming off anyone with low sales.
Q: That must have been really nerve-racking, did you feel like you'd sort of hit a wall?
Sierra: I'd been asked to rewrite the second book in a series I'd been working on, and I was really burning out on this editorial process that seemed really geared towards pushing a book to trends versus what I imagined the book to be. I also got burned out on the idea that my agent wanted a big, high concept book, and that isn't what I generate. So I couldn't find anything new to write that she was interested in selling. A friend suggested I write something just for me, and what I wanted to write was fanfiction of the 2011 Jane Eyre movie with Michael Fassbender. So that's what I did. I wrote a smutty, Victorian gothic story. I decided to self-publish since my agent didn't represent romance, and I figured I wouldn't make enough money to pay for more than my Starbucks. That book was The Awakening of Ivy Leavold.
Q: So what was that experience like, moving from traditional publishing to indie?
Sierra: I didn't find a ton of readers at first, but I generated enough income to replace what I made as a librarian. I had two young kids at a time, and if I moved to writing full time I could avoid paying for childcare.
Q: Supplementing your income to be able to write full time is something I think many writers aspire to. What was the biggest difference between writing romance and YA?
Sierra: Romance is a really big tent, so essentially you can have almost every genre under the tent of genre. It's the same with YA. But there's things about YA that make it hard. In YA, you're at the mercy of gatekeepers. You have to woo parents, teachers, and librarians, and you're writing to two audiences. But that layer is always there. The second reason is there's a lot of scarcity in the YA genre, it might be because of those gatekeepers, but when you're talking about how big genres are, YA is really small compared to things like romance and thrillers. Your audience doesn't have a ton of disposable income. Teens can't drop $17 on a hardcover. Their books are found through libraries and whoever's buying for them. It makes the genre very competitive, whereas romance is huge.
Q: How did you find the romance market in the wake of coming off the YA genre?
Sierra: I won't say no authors have no sense of competition in romance, but it's welcome to cross-promote and share. The better we all get at marketing, the more readers are trained to look for books in Kindle Unlimited, etc. Romance readers are voracious and read a book a day. They don't give up after reading just one book a month. They want seven more! It's a friendly genre and welcoming of so many different subgenres. You'll always find a niche with romance.
Q: You decided to publish romance under a pseudonym, what was that like?
Sierra: It was so creatively freeing, because I took 30 seconds and picked a name, assuming I was making $100 a month. It's the street I grew up on and my middle name that became my pen name for writing romance. I made a promise to myself that if I was going to take the time to self-publish, that this would be the name for me. My YA name involved a lot of compromises, but Sierra Simone got to be the name I used to write whatever I wanted to write. It was so transformational for me as a writer.
Q: Did you ever go back to traditional publishing after that?
Sierra: I did circle back to trad pub in 2018 with the Misadventures books, and now I have books with HarperCollins. But I've changed so much as a writer and adult, and now my relationship with publishers has been largely positive unlike my first experience. It's because I changed and learned how to advocate for myself. I see publishers as partners, not patrons. It's totally changed how I interact with them.
Q: Do you remember the first romance book you read that really spoke to you or inspired you?
Sierra: It was a book called Bared to You by Sylvia Day. It came out maybe in 2012. Sylvia Day wrote the Crossfire series, and it was the very first contemporary, erotic romance I read. I was so captivated by it because it was unlike anything I'd ever read. A friend handed it to me and I tore through that book in five hours. I was a young mom at the time and my reading time was very limited. Reading something so unabashedly sexual reoriented my brain chemistry.
Q: Would you say that despite how dismissive people can be about romance novels, that reading romance can be transformative?
Sierra: The popular perception of romance is that it's a genre driven by women as writers and readers. The cultural dismissal of it as a genre is tied to a misogynistic perception. It's disheartening when you see other women embodying this attitude. The call is coming from inside the house! This cultural disparagement has also been its superpower. It became a place where women were having conversations with each other about what constituted assault, etc. A lot of people bash on these books from the 1970s but some of these texts actually acknowledge SA and consent. It was such a departure at the time.This changing dialogue around consent, sex, and even birth control happened on a subterranean level.
Q: Despite how some may feel about them, romance is seeing a huge boom right now. Why do you think that is?
Sierra: You find wildly inventive stories that are representing marginalized voices or darker areas of emotion. It fuses together genres that previously seemed separate like romance and fantasy. The fuel of that fire is coming from the indie side. There's something really interesting about what storytelling can do when people with briefcases in Manhattan aren't watching it.
Q: I love that perspective! It reminds me of how much fan fiction can be a vital exploration of the same things.
Sierra: A lot of people don't pay attention to fan fiction, but you find incredibly creative things you don't find in mainstream storytelling. Queer identity, etc., is often expressed in these writings.
Q: Since you've done both, what are your opinions on traditional versus self-publishing?
Sierra: Depends on the type of author you are. Some authors really care most about the writing, others care about having creative control. The marketing and business side of traditional publishing is really helpful for authors that aren't comfortable with that and need a partner. There's this perception that as an author the publisher does it all for you and you just get to do the writing. In trad pub, you still find yourself doing marketing and admin work. It isn't all social media marketing work, but you'll be best off if you're open to events, and marketing yourself. No matter what path you take, the business side also finds you. If you feel uncertain with the nitty gritty of the formatting and business side, having a partner in a trad pub is valuable. But you'll have much more control and agency as an independent author.
Q: Marketing oneself, especially on social media, is a really hot topic for authors these days. What do you think about it?
Sierra: I will say, there's a feeling from authors especially that they sort of have to be an influencer themselves to market their books. But what I've found that sells the most books is not authors telling readers to buy their books, but readers telling other readers to buy their books. Facilitating word of mouth between readers is so much more important than people realize. The authors who have great personality-based platforms are not about their writing, but about them.
Q: What is some advice you would give to pre-published authors that you wish you had received before you started writing?
Sierra: For newbie authors starting out, something very helpful to me in my Facebook days, is to go after the smaller influencers just getting started instead of just the major ones. They are so valuable, because they've got more time. There's synchronicity in them growing their platform and you growing yours. I kind of hooked up with smaller bloggers in my Facebook days, and we all grew together. It created a really nice bond of us taking a chance on each other. They had more time to be interested in me and my books because they didn't have stacks of ARCs to go through.