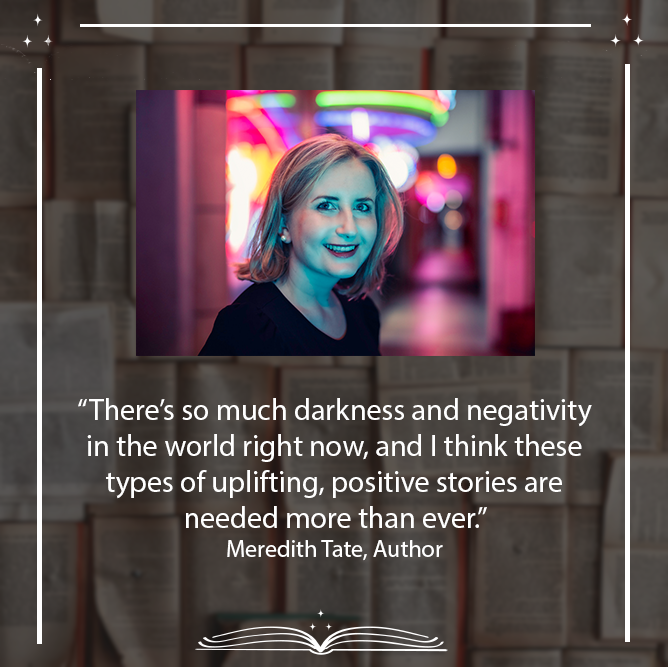 Meredith is a travel fanatic, social work alum, and bookworm who lives in Houston with her husband. She's never met a dog she didn't like.
We spoke with romance writer, geek culture enthusiast, and total ray of sunshine, Meredith Tate. As she works on her upcoming novel, we spoke about her inspirations and what advice she has for aspiring authors. Behold as she tells us all about her upcoming YA romance book, Shipped (Penguin Teen, due out May 18, 2021), her writing process, and all her favorite literary tropes. – Mike Speegle
I hear that your upcoming work is a YA romcom piece, which sounds delightful (we'd love to hear more about it!). What is it that draws you to that particular genre?
Thank you! Shipped comes out in summer 2021 with Penguin Teen, and I'm so excited about it! It's basically "You've Got Mail" at Comic Con. Shipped is about two rivals, Stella and Wesley, who absolutely hate each other. They're in their last semester of high school and competing for valedictorian, which comes with a massive scholarship they both need for different reasons. When they're assigned to work together for a school project, their rivalry escalates into a full-blown (prank) war and sabotage.
However, they're both secretly fans of Warship Seven, a sci-fi show that got cancelled on a cliffhanger after one season. When they meet anonymously online in a Warship Seven forum and realize they're planning to attend the same sci-fi convention in the spring, sparks fly. While Stella and Wesley's IRL feud escalates, their anonymous online friendship soon blossoms into something more. But with prom, graduation, and the convention coming up, their identities won't stay secret for long. Will these IRL enemies find a happily ever after, or will their relationship be cancelled faster than the TV show they both love?
I think I've always been drawn to light, fluffy, romantic stories. There's so much darkness and negativity in the world right now, and I think these types of uplifting, positive stories are needed more than ever. People often read to escape, and what better escape than a romcom with a guaranteed happy ending? I love to root for characters with great chemistry—even better if they hate each other at the beginning! Enemies to lovers has always been a favorite trope of mine because it's so fun and leaves open so many opportunities for banter and awkwardness. Reading a good romcom always leaves me smiling at the end, and I hope readers feel that way when they find Shipped.
What book(s) do you find most inspirational as an author?
I've looked up to Leigh Bardugo's world building ever since I read the Six of Crows duology. It's masterful! I'm also inspired by Sabaa Tahir's plotting in the An Ember in the Ashes series, Lauren Oliver's character development in Before I Fall, and the way Kazuo Ishiguro made a long timeline impossible to put down in Never Let Me Go. Also, in terms of multiple timelines and layered plots, I've always been a huge fan of Louis Sacher's Holes.
What's on your TBR list right now? Is there anything that you just can't wait to read?
I'm really excited for Chloe Gong's These Violent Delights and the next book in Rosaria Munda's Fireborne series, Flamefall. I also have been meaning to read The Grace Year, because it sounds right up my alley! I love science fiction and fantasy, so I'm really drawn to new releases in those particular genres. I've also had my eye on Faridah Àbíké-Íyímídé's upcoming thriller, Ace of Spades, which sounds amazing.
Where do you write, and is there a special set of tools that you rely on?
I usually write best in coffee shops—this pandemic has been tough! I just love the ambiance, especially if it's a cute and quirky coffee shop with lots of people on laptops and great caramel lattes. Fun fact: I wrote Shipped on deadline in 2019 when I was still living in Switzerland, and they have these great public transportation boats that take four hours to go across Lake Zurich. Almost every day in summer 2019, I'd climb aboard the boat with my laptop, go straight up to the Sonnendeck where the café is, order a latte, and write! It really helped me focus. I also rely heavily on music to write, and struggle to get any words down without it. I'll put together a soundtrack for whatever manuscript I'm writing or editing, full of songs that make me think of the story, and keep it on repeat. Being partially deaf, I use "bone conduction" headphones to listen to music, so I always bring those with me into cafes. One tool I highly recommend for authors is The Emotion Thesaurus! It's a great resource for writers, and I always keep a copy nearby.
What's your best piece of writing advice for a would-be author?
Keep going! This industry has so many ups and downs and rejections, all you can do is keep pushing forward, keep improving your craft, keep working at it. Read widely in the genres you want to write—and in other genres, too! Follow agents, authors, and publishing professionals on Twitter—they often post a lot of great industry advice. Find a good group of critique partners and read/critique each other's work. Always do extensive research before signing any contract. And most of all, just keep writing!
What is it about a book that keeps you turning pages?
For me, I love books with lightning-fast pacing and interesting characters I can't wait to learn more about. I'm a huge fan of authors who end chapters on cliffhangers that keep me turning pages long after I should be sleeping. In terms of tropes, I am always drawn to enemies-to-lovers stories, and any book featuring a morally-gray main character—especially if they're a morally gray or villainous girl!
To purchase Meredith's books, click below:
The Last Confession of Autumn Casterly: Indiebound|Barnes & Noble|Main Street Books|Gibson's Bookstore|Penguin Random House|Book Depository|Amazon
The Red Labyrinth: IndieBound|Barnes & Noble|Main Street Books|Gibson's Bookstore|Flux|Book Depository|Amazon
Freedom Trials: IndieBound|Barnes & Noble|Main Street Books|Gibson's Bookstore|Book Depository|Amazon
Missing Pieces: IndieBound|Barnes & Noble|Main Street Books|Gibson's Bookstore|Book Depository|Simon & Schuster|Amazon
To find Meredith online, check out her:
Twitter: https://twitter.com/mltate24
Facebook: https://www.facebook.com/authormeredithtate/timeline
Instagram: https://www.instagram.com/meredithltate24/