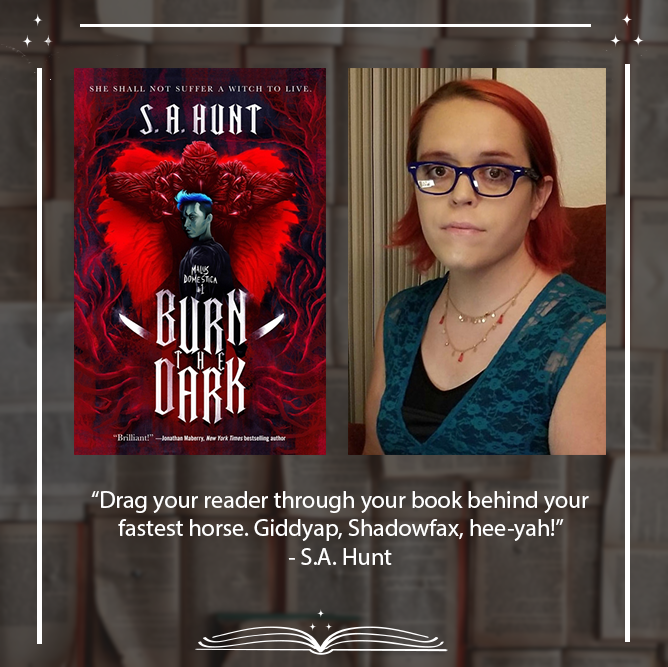 S. A. HUNT (she/her) is the author of the Malus Domestica horror-action series from Tor Books, which begins with Burn the Dark. In 2014, she won Reddit's /r/Fantasy "Independent Novel of the Year" Stabby Award for her Outlaw King fantasy gunslinger series. She is an Afghanistan veteran (OEF 2010), a coffee enthusiast, a fervent bicyclist, and she currently lives in Petoskey, Michigan.
– Mike Speegle
We spoke with S.A. Hunt, horror writer and author of the Malus Domestica, a breakneck fantasy-horror-action-adventure series published by Tor Books. She discussed her writing process, her major influences, and her time as both an indie- and trad-published writer.
You have a history of being pretty darn successful in the realm of self-publishing, and managed to garner a positive reputation before you received a traditional publishing deal. What would you say is the biggest departure in moving from self- to trad-publishing, and is there anything that surprised you during the move from one to the other?
The biggest departure would be having the responsibility for most things taken out of my hands, like creating or commissioning the cover art, formatting the manuscript for print, and all that gnarly stuff that Tor pays other people to do. What a relief.
Perhaps the biggest two surprises are (a) the lack of transparency I have on sales numbers and intra-company communication concerning my work and adaptations, and (b) the sheer amount of blog posts and articles I have to write. I mean, I understand why it can be necessary, it's a great way for potential readers to see who I am and what I'm about before they throw money at my books, but there's a reason I've written a million words' worth of novels and my personal blog has next to nothing in it—the fiction I make is so much more interesting than my real life and what I think. I'd rather write ten more Malus Domestica novels than another opinion piece.
How would you define the genre of works like Burn the Dark? There are definite horror elements for sure (the first scene with the missionaries scared the hell out of me when I read it the first time), but it seems that your narratives occasionally buck genre conventions.
Well, Tor seems to have classified it as a "horror adventure," and a "horror-action adventure," and I think I kind of like that. I used to consider it "dark fantasy," or "fantasy-horror," but the addition of the word "adventure" does a necessary job of telling folks that there's definitely rootin', tootin', and shootin' somewhere to be found in these books, and it also sort of encapsulates the inclusion of humor in these narratives.
Honestly, I think horror is just a drag if there's not an element of humor somewhere in it to sort of ground you and remind you that, hey, these are real people going through these horrific events, not just stone-faced caricatures.
Your work has been compared to that of an early Stephen King, and I seem to recall an oblique reference to Azathoth, Lovecraft's extra-dimensional blind piper, in your work. Do you count horror authors of yore as your influences, and if so, who reverberates through your work the most?
Definitely early Stephen King and Dean Koontz, and also David Wong and Chuck Wendig. I always seem to gravitate to stories that impose extraordinary circumstances on ordinary people, whether I'm reading them, or writing them. I prefer fallible characters that have the ability to lose in situations so bizarre you and I could never encounter them—because when normal people like us beat the monster, it's all the more satisfying.
What is your writing process? Are there any tools or processes you can't live without?
The drafting app Scrivener, for sure. I would not be where I am today without it. Best thirty or forty dollars I ever spent in my life.
In the Before Times, my writing process consisted of getting up in the morning, showering, then packing up my laptop and biking down to the neighborhood coffee shop to sit at a corner table and get to work for several hours. Then I'd pack it in, order something to eat, stretch my legs with a little biking around town, then head home.
In 2020, my writing process consists of crying in the shower, brunch, vodka for dessert, then walking around my apartment with a sword and scrolling Facebook restlessly until around midnight, when I suddenly develop the urge to sit down and scream into my keyboard with my fingers like some kind of traumatized shoggoth from beyond time, which results in things like this interview, for example, and the numerous Facebook posts I have written that sound like journal entries from sessions with my therapist.
Time to eat my feelings!
What's on your TBR pile right now?
Lovecraft Country by Matt Ruff (which is currently sitting on my coffee table), whatever books I haven't read in Chuck Wendig's Miriam Black books. I think there are two left? Honestly, I don't really have a TBR pile. I read like a butterfly, I just float around until I see something I like, and devour whatever I land on.
There's Stephen King's The Institute. I'd like to get to Josh Malerman's newer stuff at some point. But, like, I don't really have that tsundoku stack, that Goodreads list, you know? I'm super picky about what I read.
What is it about a book that keeps you turning pages?
Characters. I need vivid, relatable characters, who speak naturally and carry on conversations that deepen who they are as people, not just info-dumps meant to propel the story forward. And mystery, you totally need mystery—keep me wondering what the secret is! Keep me wondering what the monster looks like! Keep me wondering whether Bob really is a spy, or whether the dog really can talk, or what kind of motivation drives the villain!
And, of course, don't forget to take out the boring parts. If it's boring for you to edit, it's going to be boring for the book nerd to read. Drag your reader through your book behind your fastest horse. Giddyap, Shadowfax, hee-yah!