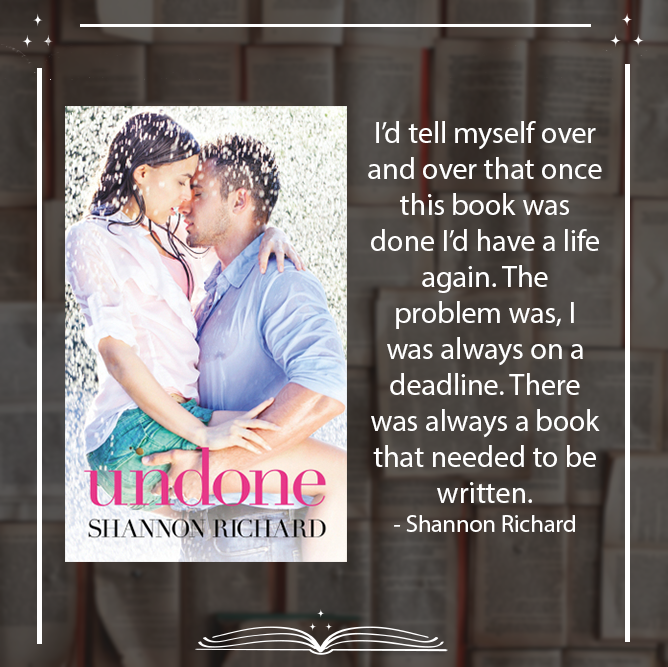 Shannon Richard is still looking for her Mr. Right, but in the meantime, writes love stories to indulge her overactive imagination. She has no shame about the amount of reality TV she indulges in, listens to entirely too many podcasts, and firmly believes that a glass of wine should always be filled to the top.
Join us for Part 2 of our interview with contemporary romance novelist Shannon Richard (read Part 1 here), Shannon reveals what led to her taking a breather from a break-neck novel-writing pace and how she's getting back into the groove. She also tips us off about authors that inspired her to write, and what her favorite "page-turners" are. –Maxine Shen
How have you been able to maintain your writing discipline while also holding down a day job?
Okay, so, here is the thing: my discipline in the last couple of years has dropped off. A lot. And has maybe been nonexistent at some points. I think I went so hard into writing at the beginning that I burned myself out. There were years where I lived in this dark little writer's cave and I'd barely come out into the sunshine. I'd work my day job Monday-Friday, getting a few hundred words in here or there where I could during the week. When I'd get off work for the weekend, my only stop was the grocery store before I'd get home and immediately go into writer's mode. I wouldn't leave all weekend. I'd spend the whole time just trying to get words on the page. I had a deadline that I had to meet, and I'd tell myself over and over that once this book was done I'd have a life again. The problem was, I was always on deadline. There was always a book that needed to be written.
I published three books in 2013, three books in 2015, and then one book each in 2016, 2017, and 2018. 2019 was the first year that I didn't finish writing a book…and 2020 turned out to be another year of no books written (and the stress of the pandemic sure didn't help). Have I been writing the last couple of years? Yes, but I keep jumping around from project to project because it's been super hard for me to focus. There are so many stories in my head that I want to write, but my discipline to get them on the page has not been strong. I didn't have the proper work/life balance at the start, and I truly believe that's what set me on this course…a course that led me to flail around before crashing. Hard. … Writing is a process, and I'm still figuring it out daily, even a decade in.
What genre books helped shape you as a reader and a writer?
I remember getting the American Girl books when I was five or six and reading them with my dad. Samantha was always my favorite. There were also stacks of Sweet Valley Twins books and a collection of The Boxcar Children on my little bookshelf in my bedroom.
I was in seventh grade when I discovered Harry Potter and my world would forever be changed with the magic that J.K. Rowling wrote. I couldn't sleep one night and my mom suggested I should try to read (something she told me when I woke her up to tell her I couldn't sleep). I'd gotten the first three books for Christmas and they'd been sitting on my now slightly bigger bookshelf for a couple of weeks. I grabbed the Sorcerer's Stone and dove in. Needless to say, I didn't get very much sleep that night. Harry Potter has been in my life for almost two decades now and it's one of the greatest journeys I've ever been on. One of my favorite memories is that I was in London when book six came out and we were driving back to Scotland as I read the first half. It was an unforgettable experience to travel north with Harry, me in the car, and him on the Hogwarts Express. It was in eighth grade that one of my favorite English teachers suggested Anne of Green Gables, a book that I will always adore. High School brought me Shakespeare, Bronte, Fitzgerald, and many more authors that would have an impact on my subconscious and my writing.
What have you been reading during quarantine?
Since there hasn't been a lot of socializing for me outside of Zoom calls lately, it's been really important for me to keep up with my close relationships. What better way than with a book club? I'm currently reading Circe by Madeline Miller with some of my best friends. We are about halfway through and very much enjoying this retelling of this particular Greek Mythology story. So Circe is a goddess/witch who has the ability to turn men into pigs (a lot of them deserve it). There is also her famous interaction with Odysseus to get a new perspective on. The book is kind of like how in Wicked we get an alternative story for Elphaba, turning her into the hero. That's what is happening here, Circe is the hero of her story and not the villain. Well, at least she is the hero where I currently am in the book.
Reading recommendation time! What are some of your favorite "page-turners?"
I have so many books that I adore that it's ridiculous. The most recent one that I read and couldn't put down was The Roommate by Rosie Danan. Clara Wheaton packs up her life in New York and moves across the country to live with her best friend/childhood crush. Problem is, her crush peaces out and leaves her with a new roommate when he goes on tour for the summer. As it turns out, Clara's new roommate, Josh, is a porn star. It was a super-hot book, and totally endearing at the same time. There were a few tears shed at the end, and I love when a book makes me cry. Oh, also, there is a whole amazing scene where Clara and Josh watch Speed and discuss the merits of Keanu Reeves.
Another book I love is Red, White, and Royal Blue by Casey McQuiston. I read this book last year and I still think about it regularly. It's an enemies to lovers story about the son of the President of the United States and the Prince of England. It was sexy, and snappy, and fun, and witty, and even heartbreaking at moments. I just loved every minute of it. This might need to be a reread very, very soon.
I clearly have a thing for enemies to lovers (see, Pride and Prejudice influences strike again), because another book that I couldn't put down when I read it was The Hating Game by Sally Thorne. Lucy and Josh are rival assistants at the same publishing house and they hate each other, except that they really don't. It's so much fun watching them discover their feelings for each other.
Thanks so much for chatting with us, Shannon!
Check out Shannon's holiday-themed novel, An Unexpected Christmas.
And follow Shannon on social media on…
Website: https://www.shannon-richard.com/
Twitter: @shan_richard
Instagram: @shan_richard
Facebook: https://www.facebook.com/ShannonNRichard/
Pinterest: https://www.pinterest.com/ShannonNRichard/