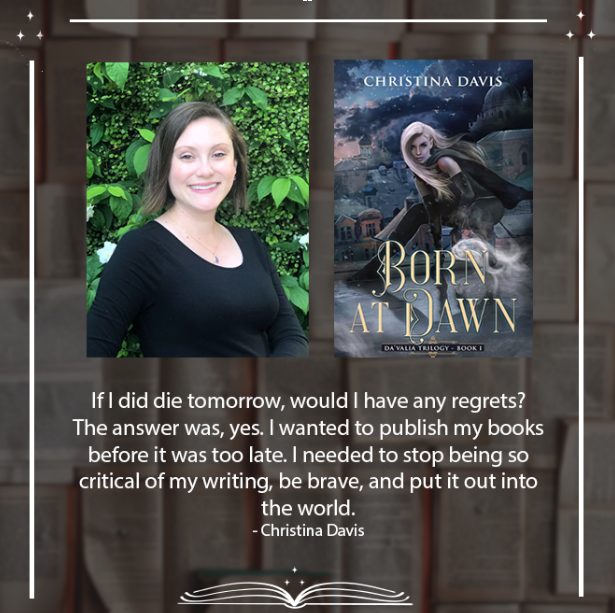 Christina Davis was raised in the Santa Cruz Mountains and is a California girl at heart. She spent much of her childhood in and out of hospitals and embraced reading as an escape. After the best blind date ever, she married a guy named Brian. She enjoys chocolate, cosplay, coffee, and board games, but not necessarily in that order. Born at Dawn is the first book in a planned trilogy.
We connected with California based writer, Christina Davis, who recently self published her first novel, Born at Dawn, the first in her planned Da'Valia Trilogy. Davis has been working on this upper YA Fantasy Adventure for more than a decade. She shared her inspiration, motivation, and all the details involved in promoting her five-star book as a first-time author.
CW: Childbirth trauma
Where did the idea for this series come from and how did you develop your original idea into a full universe filled with diverse characters?
After college, I knew I wanted to get back to writing something I enjoyed. Beyond writing young adult fantasy with a strong female lead, I wasn't quite sure where to start, so I wrote a bunch of different occupations, races, and locations on small slips of paper and pulled one from each category out of a hat. That's how my main character, Neva, a 17-year-old half-human, half-battle demon thief, was born. What's funny is it turned out that I didn't actually want to write a book about a demon, so I created the Da'Valia race as a sort of compromise with myself. Around the same time, I was reading an urban fantasy series (Dante Valentine by Lilith Saintcrow) and the imagery in her books was really inspiring. I came away with this idea of where I wanted Neva to end up, so I started writing! I had a character and an ending in mind, and I just needed to get her there.
The world of the Da'Valia was fleshed out over many years and through writing the entire trilogy. As a wide-eyed new grad, I had started querying agents before the book was ready for prime time, and one thing kept popping up in their rejection letters: the world building just wasn't there. The nibbles—the requests for partial or full manuscripts—told me that I was onto something, so the rejections made me more determined to keep working on the story until the world was as rich and real and riveting as I could make it. After I finished the first draft of the third book, I went back through, adding details and foreshadowing for a really polished feel.
What were some of the biggest challenges you had while writing? How did you overcome your fear of failure?
I suffer from a rare autoimmune bleeding disorder, which is how I fell in love with reading and writing in the first place. I was diagnosed when I was 3 years old, and genre fiction became my escape as a pre-teen and teen. The disease itself does not interfere with my writing, but one of the treatments—steroids—significantly impacts my ability to focus and my anxiety level. After I became pregnant, I went on a steady dose of steroids, preventing any forward progress on the trilogy for a while. I was constantly worried about whether the baby would be okay and couldn't really stay on task for more than 15 minutes or so.
As for overcoming my fear of failure, I'll simplify it and say that my fear of death won out. After I delivered my baby girl, they had to wheel me into the operating room because I was bleeding so much. I remember the coordinator on the phone saying that the bags of blood they ordered should have been there by now and then everything went white. I had tears streaming down my face, and I thought to myself, "If this is the end, at least I got my baby girl here safely." It was the most traumatic experience of my life, and I'm still working through it. But in the immediate aftermath, I had this sense of urgency—like if I did die tomorrow, would I have any regrets? And then the pandemic started, and the answer was yes. I wanted to publish my books before it was too late. I needed to stop being so critical of my writing, be brave, and put it out into the world. I can't tell you how glad I am that I did.
You described self-publishing as one of the most rewarding experiences of your life. Why did you decide to self-publish and what has been most gratifying about the experience?
I love the community I've built with my readers. Just this week, a member of my launch team posted on Instagram, saying that the experience of being a part of my launch was the most significant event in her reading life in 2020. She claimed that reading my book opened a whole new world of being an ARC [Advanced Reader Copy] reviewer for indie authors to her. Another messaged me that she had finally had a chance to read Born at Dawn and loved it. One of my beta readers messaged me to say congrats on having 5 stars on my reviews. Not only that, but I can see in the analytics or elsewhere online that the people reading Born at Dawn are from everywhere: Germany, Canada, England, Argentina, Australia, Norway, the Philippines. It's hard to describe how amazing it feels to go from working on a story alone for so many years to then having this awareness that people are reading it around the world.
How have you marketed yourself and your book since its publication in November of 2020?
Great question! I actually did a lot of my promotion before launching Born at Dawn, but since publication, I've partnered with other indie authors for a giveaway on Instagram, arranged cross-promotion with one of my favorite bookstagrammers (@gwendalyn_books_), connected with a handful of BookTok influencers for my genre, and networked with friends and families to approach their libraries across the country. I've also been running Amazon self-serve ads and arranging newsletter swaps, where I highlight another author's book in my newsletter and they highlight mine. As an indie author, every little bit helps. The main advice for marketing that I've seen in my online indie author community is to publish my next book, so I'm working on editing that right now, too.
You've got some great reviews on Amazon, the book currently has five stars. How did you motivate people to write a review on Amazon?
Thank you! I've been really pleased with the response from readers. Pre-launch, I recruited ARC reviewers from genre groups on Facebook, and I created a newsletter funnel to pull together a launch team, who also got a free e-book with the expectation to post an honest review wherever they prefer. In total, I sent out nearly 50 copies, and it seems that about a third of those posted reviews either on Goodreads or Amazon. Some of the other reviews came from book bloggers who were part of my pre-launch blog tour with TBR and Beyond Tours—they were some of my hardest graders! And I've also used social media to encourage people who've read the book to post a review to help me reach my next milestone, be it 20 reviews, 30 reviews, etc. The rest of the reviews are just people who've read the book on their own with no additional ask, which is fantastic.
Check out Christina's latest novel, Born at Dawn (Book 1 in the Da'Valia Trilogy series) on Amazon.
And follow Christina on social media here: