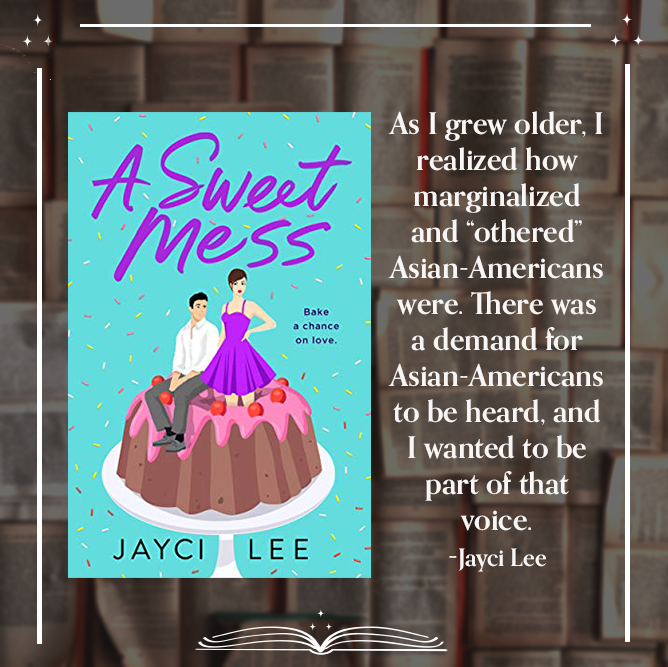 Jayci Lee lives in sunny California with her tall-dark-and-handsome husband, two amazing boys with boundless energy, and a fluffy rescue whose cuteness is a major distraction. Semi-retired from her fifteen-year career as a defense litigator, Jayci now writes full-time. She loves food, wine, and traveling—and so do her characters.
This week, we're excited to catch up with #OwnVoices romance novelist Jayci Lee, author of A Sweet Mess (Macmillan Publishers), a delectable romcom involving a small town baker, a celebrity food critic, a one night stand, and a big misunderstanding over a "Frankencake." In addition to giving us the lowdown on why it was so important for her to feature Asian-American characters in her novels, Jayci also shared some inspirational advice for aspiring writers, what surprised her most about getting published, and her favorite page turner. —Maxine Shen
Your novels—including the Heirs of Hansol series (Harlequin)—and your upcoming The Dating Dare (Macmillan, August 2021), center around Korean-American characters. Why was it so important to be an #OwnVoices author, especially in the romance genre?
I discovered Harlequin novels when I was thirteen, and I've been a romance reader since then. It never even occurred to me to question why there were only white couples on the covers. I'd blindingly accepted that Asian-American characters were not meant to be main characters.
Oh, how wrong I'd been. As I grew older, I realized how marginalized and "othered" Asian-Americans were. There was a demand for Asian-Americans to be heard, and I wanted to be part of that voice. I wrote specifically about Korean-American characters because of my own upbringing and heritage, to offer the most authentic #OwnVoices story. By writing these books, I wanted my readers to see and accept Asian-Americans as Americans. I wanted to normalize Asian-Americans as an integral part of America. We aren't foreigners, but Americans who are here to stay. I chose to write in the romance genre, not only because it's a genre I love, but because of the wide reach it has. The more readers the books reach, the more perspectives we can change.
What is it about writing romance novels that's so appealing to you?
I get to write stories about love, hopes, dreams, and happily ever afters. What could be better? I also write about strong, independent heroines and heroes who respect the heroine's strength. I want my romance novels to be the antithesis of what the patriarchal society is feeding women about femininity, their role as women, and sexuality. There must always be complete, indisputable consent. Women have a right to demand safe sex. Sex isn't only about male orgasm where women become mere tools for their pleasure. Women deserve good sex, and there's no shame in admitting their needs.
"As I grew older, I realized how marginalized and "othered" Asian-Americans were. There was a demand for Asian-American voices to be heard, and I wanted to be a part of that voice."

—Jayci Lee
What tips do you have for those of us trying to balance careers and personal lives with trying to bang out our first novels?
I did write my first two novels while still practicing as a defense litigator. I was also the mother of two very young boys at the time. Time was a luxury I didn't have much of, but you need to hunt for every spare minute you have. Write a paragraph, a sentence at a time, but write. Write with the intent to be published. Don't tell yourself it's just a pipe dream and no one's ever going to read your book. Be completely invested in your goal. Believe it. Just because you're writing half-time doesn't mean your dream is any less real. Chase it like you mean it.
If you could go back in time, to when you were still an aspiring novelist, and give yourself a pep talk, what would it be?
Relax. Be patient. Everything in publishing takes time when it's your turn to wait for an answer. When you need to provide something, then it's "hurry, hurry," but other than that, it's always "wait, wait." That's just how the publishing industry is. Don't automatically go into waiting mode. You're only torturing yourself. Focus on your next project. Always look ahead because this is your future. Don't lose sleep over book sales and reviews. You can't control that. Focus your energy on what you can control.
What was the most surprising thing you learned about the process of having your first book published?
The inordinate amount of "waiting" that goes into the publishing process, and the secrets you have to keep. I signed my first book deal in October 2018, and the book Temporary Wife Temptation came out in February 2020. I'd had to work hard revising and editing the book during that time, but there had also been exciting news I had to keep under wraps for weeks, sometimes months—like the book title, the cover, and a movie deal. But it was always fun and exciting when I finally got to share the news.
And, finally, what's your favorite "page-turner?"
I loved The Song of Achilles by Madeline Miller. The poignant, heart-wrenching beauty of the writing and love story was enthralling, and the book stayed with me like a haunting melody.
Check out Jayci's novel, A Sweet Mess, on Barnes & Noble, IndieBound, and Amazon. And while you're at it, you can also preorder her upcoming book—The Dating Dare—here.
And follow Jayci on social media here: