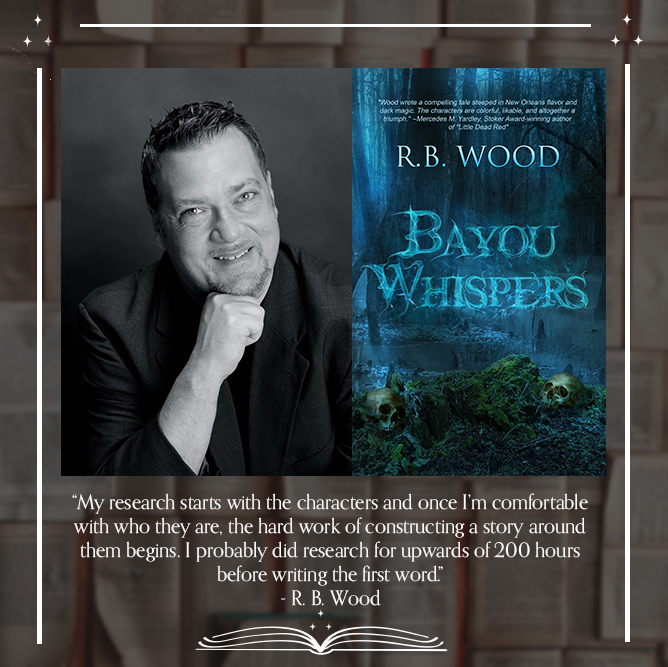 Bostonian R. B. Wood is a recent MFA graduate of Emerson College and a writer of both speculative and dark thrillers. His writing has appeared in Crystal Lake Publishing's Shallow Waters anthology, SickLit Magazine, HorrorAddicts.net, and in the award-winning anthology "Offbeat: Nine Spins on Song" from Wicked Ink Books. R. B. also hosts The Word Count—a podcast featuring original flash fiction by new and upcoming writers.
Page Turner Magazine is delighted to present an interview with one of our own—recent Emerson College PopFic alum R. B. Wood, author of Bayou Whispers (Crystal Lake Publishing). The thriller, which hits bookstores on April 29, tells the story of a lawyer who returns to her New Orleans hometown to help the sheriff's deputy-turned-thief who'd rescued her after she'd been held hostage twelve years ago and who now stands accused of murdering her captors. R. B. tips us off about the appeal of writing thrillers, how to handle feedback on a work-in-progress, and the best advice he picked up during his MFA. —Maxine Shen
You've got a strong background in writing horror, but Bayou Whispers is a thriller. What inspired your decision to switch genres with this novel?
Normally I tend to write horror tales. Bayou Whispers has horror elements, for sure. But as I developed the story, I realized these unique characters I created wouldn't work for a "slow burn" noir Southern gothic horror (which is what BW started out as). I like thrillers with supernatural or horrific experiences for my characters—and the breathless pace of a traditional thriller never gives my protagonist time to do more than react. I think you discover more about a character by reading about their instincts when the pressure is on, and the thriller format provides a "shot clock" of sorts to work against the characters.
Bayou Whispers is set in New Orleans, involves voodoo, an attorney, and a thief…but you live in Boston and aren't a practitioner, a lawyer, or a thief. How'd you go about your research before you started writing the novel?
Excellent! You haven't seen my wanted poster in the Post Office then! The big draw to writing novels for me is learning something new or expanding on knowledge I already have. Back when I was a technology consultant, I spent many months in New Orleans—inclusive of a trip in 2019 just before the pandemic hit. I love to talk to people, meet with them for lunch, dinner, and/or drinks and just chat. There is a scene in the beginning of the novel that is partially lifted from a conversation I had in a Bourbon Street pub with two retired law officials. My research starts with the characters…and once I'm comfortable with who they are, the hard work of constructing a story around them begins. I probably did research for upwards of 200 hours before writing the first word of BW.
You're a recent graduate of Emerson's PopFic MFA program. Was there anything in the program that left a lasting impression on you as a writer?
The list is rather long for things that I learned. But by far, the best lessons were to try a genre you've never read. Try an author from a different culture or background. Experiment. The professors at Emerson loved and encouraged us to try as many new things as possible. And that's how I found my own voice!
What are your top tips for incorporating writing workshop comments into your novel draft?
I tackle the issues raised by consensus first. If multiple critiques make notes on the same thing, as a writer, I need to take a hard look at what they are saying. Next, I evaluate comments on their merit—did my workshop partner see something I didn't? Did they miss something that I need to bring out more? Does what they are commenting on improve the flow of the narrative? For Bayou Whispers, I was able to workshop specific scenes throughout my degree program—but I still asked a bunch of beta readers for feedback as well. Ultimately, if you work with the right people, the writing will only improve.
"Meeting authors and industry professionals who have 'been there and done that' is a huge leg up for one's progress in the industry."

—R.B. Wood
What's the most helpful feedback a critic partner can give someone working on the draft of their novel?
The most helpful [questions I received] from a crit-partner I received when I was starting out were, "Where is your protagonist's journey? What do they learn?" I'd written a series of cool scenes, but the growth of the hero was nonexistent. Without strong characters who are on a "path of discovery and growth" there is no reason for the overall story.
What was the most surprising thing you learned about the process of having your first book published?
I've indie-published in the past (my novel, The Prodigal's Foole, came out in 2012). But this time, I pursued and found a publisher (Crystal Lake Publishing) who was willing to take a chance on me. What I didn't realize is the amount of marketing I had to do to get the word out there! I've learned a lot from press releases to finding the right "booktubers" to review my novel. Honestly, I can't wait to get back to my next book and leave the TV and Zoom interviews behind!
As aspiring novelists, we always hear about the need to network. Why is this so important?
Networking is the only aspect of marketing I truly enjoy! Meeting authors and other industry professionals who have "been there and done that" is a huge leg up for one's own progress in the industry. I cannot tell you how many people in our industry have made the time to share their own experiences. I'm hoping that one day, I'll be able to give back to up-and-coming writers.
If you could go back in time, back to before you got your book deal, and tell your aspiring novelist self one thing, what would it be?
Start sooner! I wrote Bayou Whispers when I was 55-56 years old and it's being released this year. Imagine what wonders I could have made up if I started at age twenty?
Lastly, what's your favorite "page-turner"?
Favorites, for me, change like the wind, so I'll pick this week's leader. Silvia Moreno-Garcia's Mexican Gothic is a slow-burn horror novel that allows you to get to know the main character (Noemi) and experience 1950s Mexico.
Check out R. B.'s novels, Bayou Whispers and The Prodigal's Foole, and listen in on his podcast, The Word Count.
And follow R. B. on social media here:
Twitter: @rbwood
Facebook: facebook.com/rbwoodwriter
Website: rbwood.com