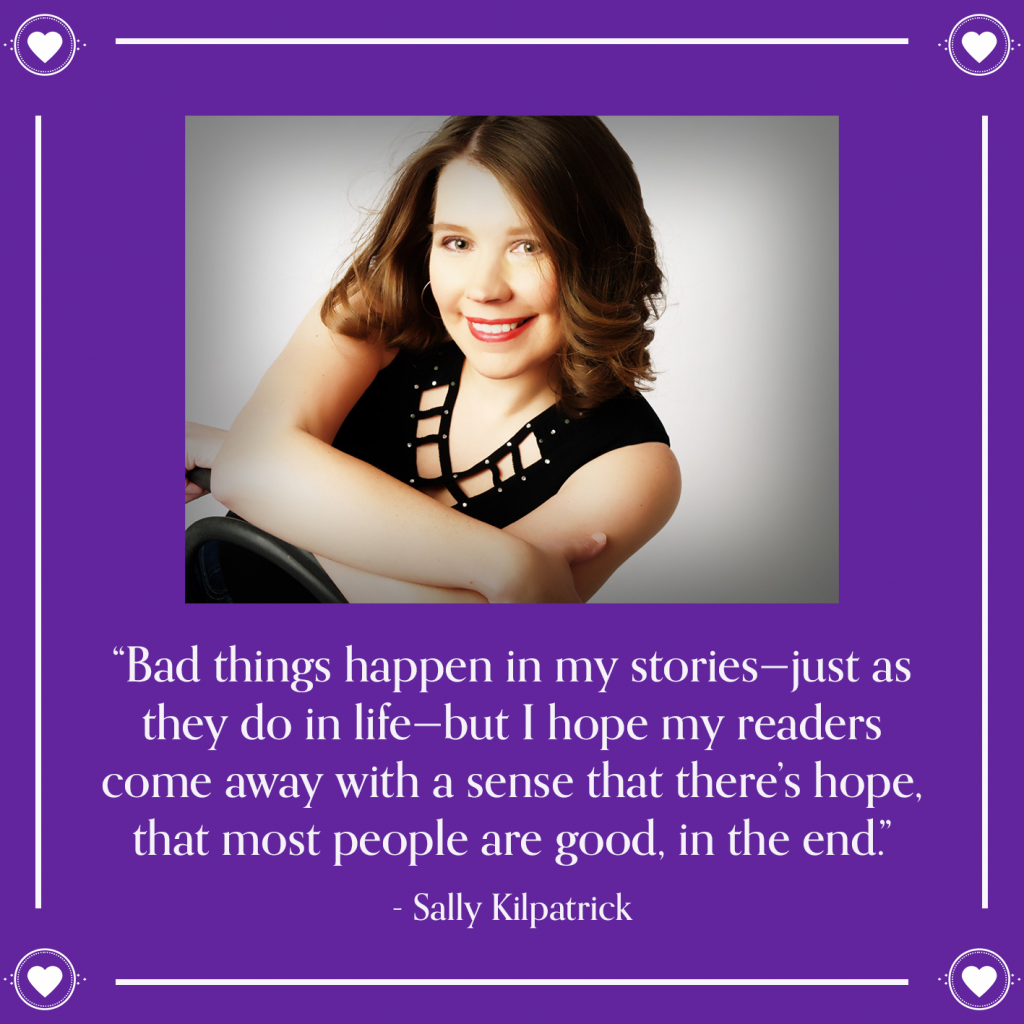 We're delighted to have had the chance to interview contemporary Southern fiction novelist Sally Kilpatrick this week. Sally's an award-winning, USA Today best-selling author of numerous novels and novellas, including the recently released sixth book in her An Ellery Novel series, Much Ado About Barbecue (NYLA, out September 2), centered around two warring BBQ houses and the sizzling love-hate relationship between former childhood frenemies. 
Sally—a former high school teacher who grew up in Tennessee, but now lives in Georgia—gave us the scoop on her path to becoming a published author and also shared tips about methods that have helped her writing process, including the art of "redrafting," how she prepares her manuscripts for publication, and why being part of a writing organization was so beneficial in launching her career as a novelist. —Maxine Shen
What appeals to you most about writing contemporary Southern fiction and how do you define the genre?
They say write what you know, and I know about living in the boondocks of Tennessee. With my next story I'm branching out to the suburbs of metro Atlanta, though, because that's another facet of the South that I know. The cool thing about Southern fiction is that it's basically anything set in the South. That allows for a wide variety of authors and stories—especially in contemporary tales. Old School Southern fiction tends to be associated more with the gothic or even the macabre, and that makes a lot of sense considering the past.
What do you hope your readers take away from your novels or the Southern fiction genre in general?
I'm always happiest when a reader tells me that my novel helped them get through a hard time, gave them hope, or helped them escape for a while. Bad things happen in my stories—just as they do in life—but I hope my readers come away with a sense that there's hope, that most people are good, in the end.
Another promise I made to myself was that I wanted my stories to, in some ways, reflect the South as it is and/or should be. I have tried not to have every single character in my small town be white and heterosexual. I still have a lot to learn myself, but I'm trying not to perpetuate the kinds of stories that are so white-centric. Another thread is often religion, and I didn't anticipate the pushback on that because religion permeates so much of the South. I could not, however, make my stories like the inspirational books people expect. In my stories, religion is messy, but, hopefully, the reader comes away with the idea that God loves each and every one of us no matter what.
They say write what you know, and I know about living in the boondocks of Tennessee.

—Sally Kilpatrick
When you're preparing to submit a novel to your agent or your editor, what is the first and last thing you always do before handing it off?
The first thing I do is pass it to my mother. She's an English major and has a good eye for both inconsistencies and grammar mistakes. Also, I don't have to worry about what my mother would think because she's already read it. I think the last thing I do is try to read as much of the book aloud as I can because that helps me catch errors and smooth out the prose. But then I'm frantically typing in corrections after that. Once it's handed in, then it's time for bubbles and some kind of mystery show.
What was the most surprising thing you learned about the process of having your first book published?
Distribution and discoverability. When I finally sold The Happy Hour Choir, I was walking on air. I thought I had it made. Nay, nay. As a traditionally published author, you have very little control over where your book is put on shelves or how to get people to see it. I went around to a lot of book shops to introduce myself—apparently, you're not supposed to do this, kids—and the response was so… disheartening. There were a lot of indulgent smiles and "Yes, yes, you have a book coming out." Sometimes there was even some hostility, "I'll take [your ARC], but I make no promises." I think I may have expected a song and dance montage congratulating me on finally getting a book out in the world. They may have had one in my hometown? At least until they read to the parts with cussing and drinking.
In general, we writers need to be satisfied with amusing ourselves, and we have to be prepared to hustle because the day of turning in a book and washing your hands of it has passed. Today's author has to also be attuned to [self-]promotion.
Have you ever written yourself into a corner or realized a plot point/idea just wasn't working?
I used to think I had to be a pantser (one who writes as she goes along) for my work to be artistic. Writing in that way created lots of situations where I painted myself into a corner or had a story with no plot. The Happy Hour Choir was the first book I wrote with an outline, and I don't think it's any coincidence that it's my first manuscript to be published. Even with an outline, though, I tend to get to about the thirty-thousand-word mark and realize I made a wrong turn at Albuquerque, as Bugs Bunny used to say. Then I start over.
My fiction professor, Tony Grooms, introduced me to this idea of redrafting. It's not a new idea, but it had never occurred to me to start over in a blank document. For me, writing a second draft from scratch can work wonders. I usually print out the old version, read it, make notes, and then keep it on my desk as a sort of security blanket, but I'm basically writing the old story in a new way.
Besides redrafting, what methods have you used that have helped you overcome plot problems?
When stuck, I find it's best to do some kind of mindless task. I'll go for a walk or take a shower. Sometimes I'll have a chat with myself before bed and say, "Hey, subconscious, could you do me a solid and work out how I need to fix this plot snag while I'm sleeping?" I rarely have the answer upon waking up, but it eventually comes to me.
I think the best was the time I had a revelation in carpool. I'd just dropped off the girl child and it hit me: "Holy sh*t! All three of those stories are set in the same small town!" I'd written earlier versions of what would become Bittersweet Creek and Better Get to Livin', and then I realized that all of those characters were interrelated to The Happy Hour Choir. My fictional town of Ellery was born. Er, consolidated.
You wrote at least 4 manuscripts before The Happy Hour Choir was published. How did you know that The Happy Hour Choir was "the one?"
I queried the others, too. I have a stack of rejections because I started querying back before it was all done by email. I didn't know The Happy Hour Choir was going to be the one until I finished it. In fact, it was what I like to call my F*ck It Manuscript.
I'd tried to follow all of "The Rules." I'd chased trends. I'd taken workshops and the advice of experts. I was tired and getting nowhere—not even one contest final. So, I told myself, screw all of the rules. Write the story you want to write and then we'll figure out where to put it. And I did.
Wait. There was a moment when I knew: I got contest feedback that said, "Your tone is too light and humorous for such serious subject matter. You may want to change your tone." My gut reaction was, "No! That's my voice." Usually, I would try to incorporate all advice, but that note was a turning point; it was like I could finally see my voice and thus could lean into it.
How did you keep your spirits up during the querying process? What advice do you have for aspiring writers who are getting rejection letters…or worse, just not getting a response to their queries?
Fortunately, my mother always pushed me to try new things and to enter various contests. She likes to say, "You know you won't win if you don't enter." That philosophy got me started. Being as stubborn as the proverbial mule kept me at it. Once at a Georgia Romance Writers meeting, Missy Tippens was the speaker, and she was talking about the things you can control versus the things you can't control. That talk stuck with me. I could control how many words a day I wrote or revised. I could control how many queries I sent out. I could not control who bought my book or when.
Of course, a lot of that has changed. A rejection letter is better than the void of never getting an answer. Authors today also have the option of self-publishing, but I think my advice would be similar to what it was in the before times: Make goals that relate to what you can control. Remember you can always self-publish, but be smart about it. You need to do your research and put the effort in to find editors and professional covers and all that jazz. Also, throwing up one book does not a career make.
The biggest piece of advice is to keep writing. If you're picked up by a traditional publisher then they may pick up your other books—they did for me. If you're self-publishing, then you're going to need several books to release strategically. At the end of the day? Keep writing. Always keep writing.
I didn't know The Happy Hour Choir was going to be the one until I finished it. In fact, it was what I like to call my F*ck It Manuscript. 

—Sally Kilpatrick
How do you stay disciplined while writing?
I usually set deadlines for my deadlines—that way I have a bit of a buffer built in. I do better with a weekly goal than a daily goal because one day I might have to take a child to the doctor or go to an assembly. The next day I might be able to write twice as much to make up for it.… I also have all sorts of charts: word count charts and exercise charts. I've had to learn to congratulate myself on what I do get done rather than fixate on what I didn't get done, though, because there's always something else to do.
I think the most important thing for any author is to figure out what you can do and then put your goal slightly below that. I am notorious for thinking I can accomplish more than I actually can. Set yourself up for success and then you can build upon that.
What advice do you have for aspiring authors who don't know how or where to start networking or are just feeling too shy to even try?
For me, writing organizations were a very important part of the process. Romance Writers of America recently came under fire, and rightfully so, for some deeply embedded racism. I hope they're going in the right direction now. Georgia Romance Writers is a chapter of RWA and where I learned so much about not only craft but also how to sell a book. No one knows the business of writing like romance writers. Many of them were entrepreneurs before being a writing entrepreneur was cool. Unlike many other organizations, you didn't have to be published already to join, either. GRW also has a strong tradition of paying it forward—published authors answered questions and gave critiques, so now I answer questions and give critiques. I joined because I thought I wanted to be a romance writer. It just so happened that I'm more of a mainstream writer who usually has a romance somewhere in her stories.
I guess my advice would be to screw your courage to the sticking place and look for a local writing group. Do understand, however, that not all groups are for all people. Also, there's a great deal of professional jealousy out there and plenty of grifters who have no problem taking advantage of others, so be careful. People who truly want to help you shouldn't be asking for money. 
Also, be on the lookout for contests that get your work in front of editors and agents you like. Sometimes there are auctions where you can buy a critique from an author/agent/editor and also contribute to a good cause. On the whole, however, the best thing you can do is to find some other authors who are approximately in the same spot you are on the publishing journey and to help each other. Finding those folks isn't always easy, but it's well worth it because they understand more about the slings and arrows of publishing's outrageous fortune than your partner or your family.
What books should we be adding to our "to-be-read" pile?
I read Emily Carpenter's Reviving the Hawthorn Sisters in two days—Southern Gothic goodness there. Other books I have gobbled up include Sharina Harris's Imperfectly Happy, which was about girlfriends achieving their goals, and Vanessa Riley's A Duke, The Lady, and a Baby, which was pure Regency escapism. Deal with the Devil by Kit Rocha was a dystopian that actually gave me hope, because badass librarians. The Widow of Rose House by Diana Biller, which was also kinda gothic; Kwana Jackson's Real Men Knit, which was a fun contemporary, and Mia Sosa's Worst Best Man, which was a fun enemies-to-lovers. My go-to page turners include Joshilyn Jackson (Southern Fiction fix), Phyllis Bourne (a laugh-out-loud read), Deanna Raybourn (smart Victorian mysteries), Tess Gerritsen (thrillers), and Kresley Cole (paranormal romance)—and my apologies to anyone I've forgotten. I am also now hopelessly addicted to the manga Black Butler.
Thank you so much for chatting with us, Sally!
Keep up with the latest from Sally on social media here:
Twitter: @SuperWriterMom
Facebook: SuperWriterMom
Website: sallykilpatrick.com
Instagram: SuperWriterMom