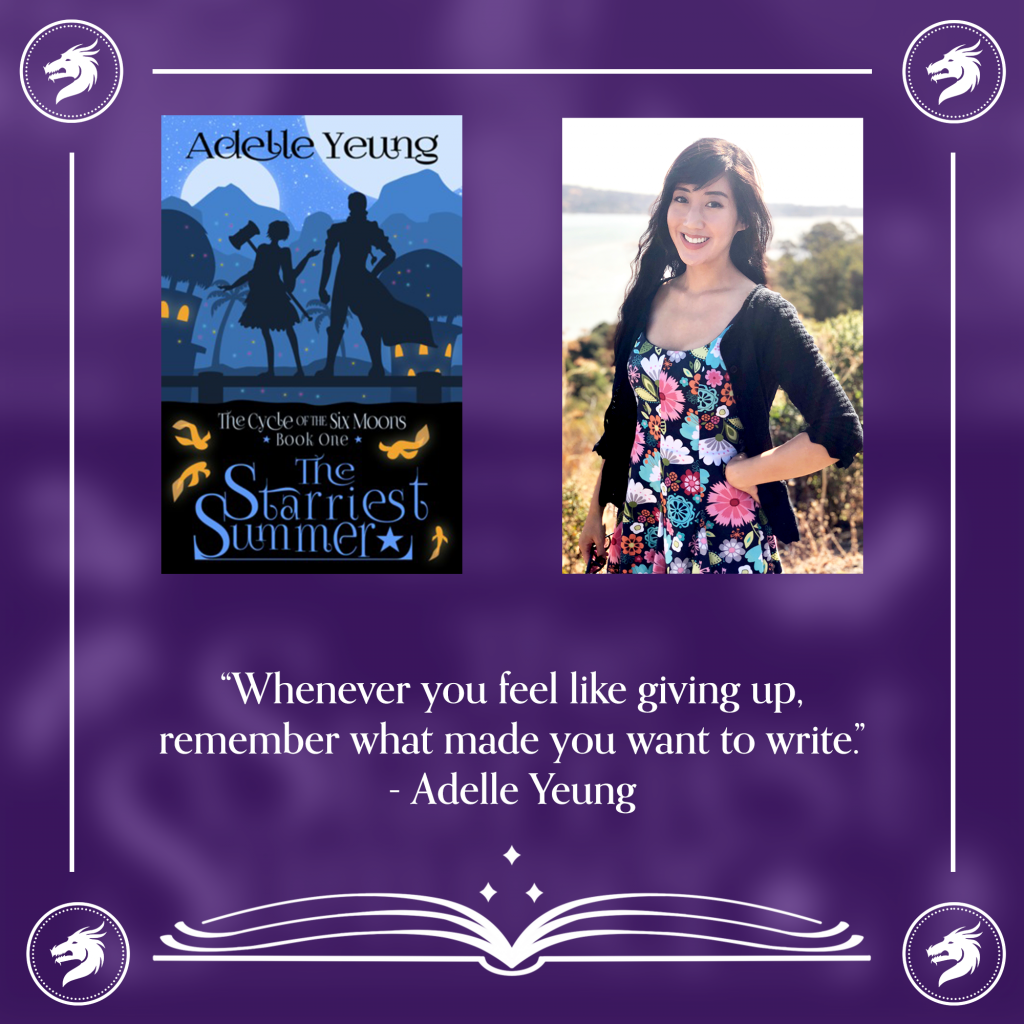 By Anna Chalmers
About the Author:
Adelle Yeung is a fantasy author, voice actor, and digital artist. When she's not writing or recording, she enjoys sewing costumes, baking sweets, and escaping on video game adventures. She lives in California with a cat that dreams of eating the pet bird.
Like the majority of us lucky people in the thick of a global pandemic, fantasy novelist Adelle Yeung is stuck in some sort of limbo.
"I am represented by a literary agent now, so I have some know-how on what the process to traditional publication is like, even if I don't have a deal yet," said Yeung, whose works include the young adult fantasy adventure series, The Cycle of the Six Moons.
Yeung has always been a storyteller in some capacity, whether it was through theatre, animation, voice work, or other creative projects.
It was, indeed, quite a process that got Yeung to where she stands right now in the literary world, even if she's in a moment of professional flex at the hands of the publishing business.
Yeung has always been a storyteller in some capacity, whether it was through theatre, animation, voice work, or other creative projects. It was the failure of one project that led her to take power over her own work by trying self-publishing.
Yeung was on a team developing an indie video game, but the project never came to fruition. She did, however, make a lot of connections, including meeting a graphic designer. Yeung had a complete manuscript sitting around and thought it would be fun to ask her new graphic designer friend to create a book cover. After seeing their final design, she decided she wanted to self-publish her work. But with self-publishing comes the looming task of self-marketing.
Yeung created a couple YouTube channels and social media platforms under her pen name to help market her book. While building her social media presence, Yeung got to show off her creative talents. She created a book trailer, voice-acted teasers with still art, distributed bookmarks with her cover art and website into bookstores, and participated in virtual book tours. She already had connections to libraries because of her past work in her local school district. With these connections and a modest, yet sizable social media following, this collective group became a community around Yeung who supported her work and bought her first book, The Starriest Summer.
While it is simple to list Yeung's varied marketing tactics, the process of self-marketing didn't come easy. Her biggest hurdle with building a brand is simple: She hates marketing herself.
"Yes, I was proud of that book. From conception, that story was part of my life for thirteen years at that time. But I am not a salesman. I never took a marketing class."
Despite this hesitation, Yeung continued to market herself and even began to enjoy the experience. Sticking with social media actually led to her getting a literary agent. She pitched her book during a DVPit, a Twitter pitch party specifically for marginalized authors, and was later contacted by Zabé Ellor, an agent at Jennifer De Chiara Literary Agency, for representation.
Yeung says that being signed has generally been positive, however, she had to adjust how she interacts with her community and followers on social media. She's never had issues with adjusting to a change in the media landscape or technology itself, but she did have to get used to the new restrictions to her social media usage that came with getting an agent. Prior to being signed, she would update her followers and writers in her community on her writing process and discuss her ideas for her next manuscript. Now with an agent, she's had to be more careful about what she posts. For example, she isn't allowed to talk about what she's working on in writers' forums like she used to because "editors are touchy and don't like knowing they weren't our [her and Ellor's] first choice."
Details were spared, but it seems the more professional parties that have gotten involved with her work, the more likely she is to upset one of those parties.
However, even with this new, slight annoyance, the biggest adjustment for Yeung has been rejection and comparing herself to other people.
"And then all these deal announcements would flood Facebook, Twitter, Instagram, saying, 'I HAVE A DEAL! Dreams do come true!' Meanwhile, I'd been on sub for over a year and hadn't sold anything."
When she was self-publishing, Yeung had control of her work, but now she's up against what she calls "gatekeepers." She coined this term for publishers who claim to want diverse stories, but will then send rejection emails to her agent that imply that they already have enough authors of color on their slate for the year. With this rejection and witnessing her peers' success, Yeung took some time off social media for her mental health.
After a much needed break, Adelle Yeung is officially back on Twitter, working on revisions, and is in a much better headspace than a few months ago. Despite her struggles, Yeung is still working towards her goal of becoming a traditionally published author. At the end of our chat, I asked her what her advice was to other writers. Keeping in mind her own roadblocks she said, "Whenever you feel like giving up, remember what made you want to write."