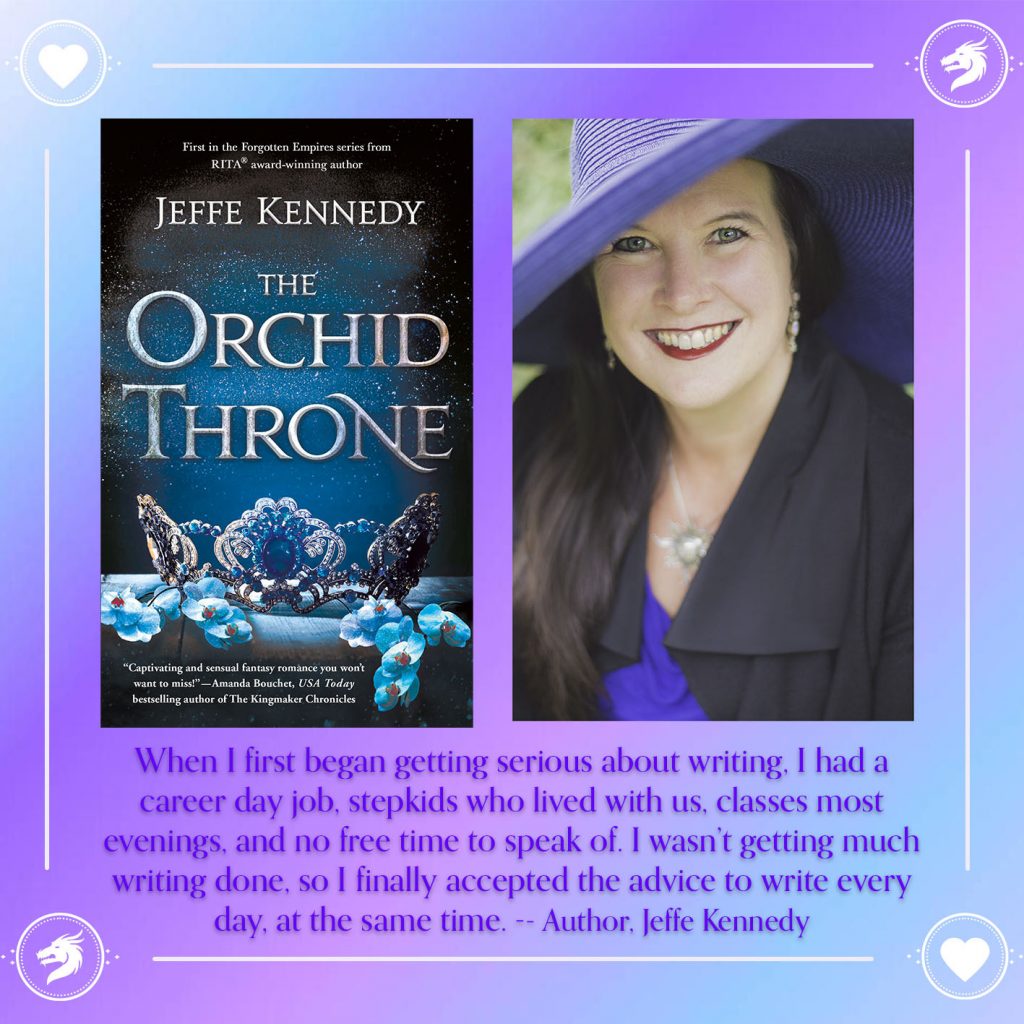 Jeffe Kennedy is an award-winning author of Fantasy and Romance who has won the prestigious RITA® Award from Romance Writers of America (RWA) and was finaled twice. Kennedy's works include novels, non-fiction, poetry, and short fiction.
Some genre authors write a book a year, others can barely manage to squeeze out a book every half-decade. Then, there are authors like current Science Fiction & Fantasy Writers of America Board President Jeffe Kennedy who are—to put it mildly—prolific.
Last year, in 2021, the award-winning fantasy and romance author released seven full-length novels and still managed to find time to contribute a story to the Fire of the Frost anthology book. This year, Kennedy's already dropped the dark fantasy romance Grey Magic (found here) and is gearing up for the launch of the epic fantasy romance The Storm Princess and the Raven King (found here, releasing May 31).
With 25 years in the publishing industry under her belt and more books to her name than we can shake a stick at, we here at Page Turner Magazine were thrilled to have the opportunity to pick Kennedy's brain about her advice for aspiring writers. In Part 1 of the interview (below), we cover general writing advice, including how to balance a burgeoning writing career with a "regular" career and how being a "pantser" can be both a blessing and a curse when it comes to plotting.
Stay tuned for Part 2 of the interview when Kennedy, who is a hybrid author—she publishes both traditionally and on her own—shares some self-publishing tips. —Maxine Shen
Most authors tend to pick a genre early on and then stick with it. You write sci-fi/fantasy and romance novels. Did you write across genres to satisfy different parts of your writing brain? If so, in what way?
For me they're not really different genres, since I write primarily romantic fantasy, which is solidly in the Venn Diagram overlap of epic fantasy and romance.
The interesting thing about both science fiction and fantasy as genres is that there is no standard plot structure. Other genres—like mystery, thriller, romance—have very identifiable, standard plot structures. If I ask you what a mystery plot is like you can give me the basic points. If I ask you what the fantasy plot structure is, you can probably come up with a dozen conflicting examples. Tolkien's The Lord of the Rings has a hugely different plot structure than George R.R. Martin's A Song of Ice and Fire, and neither is like anything that Robin McKinley writes, or Naomi Novik or Jacqueline Carey or Anne McCaffrey or Patricia McKillip. Some fantasy novels use the Hero's Journey, some are more action/adventure stories, some are quests, and some solidly mystery or thriller plots in a fantasy setting. In the end, it seems that fantasy and science fiction are truly settings for other plots. I happen to write romance plots—often with quests and elements of the Hero's Journey, which I almost always give to the female protagonist—in an epic fantasy setting.
The interesting thing about both science fiction and fantasy as genres is that there is no standard plot structure.
So, that's a very long way of saying, no, they don't satisfy different parts of my writer's brain, because they are the same thing to me.
You're a full-time writer now, but back when you still had a day job, how did you find time to write and manage all your non-writing responsibilities? What kept you disciplined back then? And what keeps you disciplined now?
I'm a big proponent of building a writing habit to create the structure that prioritizes writing. Nobody ever "finds" time to write, because none of us have blocks of empty time in our lives. We have to make time to write, which means blocking off that space with strong walls that must be constantly reinforced. Writing looks like wasted time to other people, because it appears we're staring out the window, or at a blank screen, and we might be "still writing that novel" for years. They see that time as encroachable, so we have to be firm in creating those boundaries.
When I first began getting serious about writing, I had a career day job, stepkids who lived with us, classes most evenings, and no free time to speak of. I wasn't getting much writing done, so I finally accepted that the advice to write every day, at the same time every day, might be worth a try. (I resisted this advice for a long time, because it's really hard to do, especially at first.) I began getting up at 5:00 AM and writing for two hours before I had to get ready for work.
Reader, I was not a morning person. Some of the writing from that time is seriously wonky. But I made myself a deal, that as long as I wrote for two hours, I could write whatever came out. The point was to build the habit. And it totally worked. Over time I was able to adjust my schedule to be a little less brutal, but I still wrote for a few hours in the morning before transitioning to my day job.
I still write in the mornings, in three to four one-hour sessions, with the goal of writing 3,000 words/day, five days/week. I even coach other authors in setting up this kind of productive creativity.
You've now written multiple books in so many different series…and keep getting new series deals. How have you been able to come up with some many fresh ideas? What inspires you? And—for those of us who have a hard enough time with fine-tuning just one plot—does generating new plots get easier with experience?
It must get easier with experience, because I and pretty much every author I know will joke that getting ideas is the easy part! Most of us have files of story ideas. The real trick is in the execution—both making that time to devote to the idea and fully developing it, and in bringing the idea from its shining, amorphous glory into concrete (and often much shabbier) reality.
I also think this comes from life experience. While we love to laud the young prodigy, most authors don't publish their first books until later in life. I don't have to read a lot of lore, because I've been reading for fifty years now. I have a graduate degree in neurophysiology, and I double-majored in college in biology and comparative religious studies, with a minor in theater. I have a lot of information stuffed in my head, which I draw on when I'm building worlds. I think it's super important to read and read widely. Experience things. Learn new stuff. You never know where ideas will come from, but when they do, they just pour in! Then the trick becomes deciding which are the good ideas.
While we love to laud the young prodigy, most authors don't publish their first books until later in life.
Another piece of this is learning to make that space for inspiration to arrive, and to embrace silence. In our culture we have a tendency to fill up the space with noise and input—internet, music, movies, binging shows. You have to turn all that stuff off sometimes or you'll never hear the voice of your imagination. You also have to make that space for inspiration to flow in and be heard. Eudora Welty said that she didn't write when she felt inspired, she wrote in case she was inspired. That's why writing every day is important. Through the act of writing, we open that door into another world so the stories can flow in and the characters can speak to us.
I, for example, am incapable of pre-plotting. I can't outline a book before I write it. I don't know how my books end. By writing, I discover the story. The characters come and tell me about their lives and their world. Don't wait to think up a plot to begin writing; begin writing and allow the plot to come to you.
And yes, this is slow and creaky at first, but the more you do it, the easier it becomes.
Have you ever written yourself into a corner or found that a plot point or scene just wasn't working? How did you overcome that?
I don't give up on plot points or scenes as a rule, because I'm an intuitive writer and I trust the story. If I feel I've hit a wall, I keep chipping at it and eventually I'll break through. Inevitably, what I find on the other side is pure gold. Occasionally, especially with a long-running series, I'll paint myself into a corner with a worldbuilding rule. In a later book, I'll want to do something that I can't because of some tossed-off comment in book one. Usually it's not even an important detail and I could've omitted it—which is especially infuriating.
I've gotten better about not including random details like this, but one recent example is in my Forgotten Empires trilogy. In the first book, The Orchid Throne, my heroine, Queen Euthalia, makes an offhand comment that her mother had been married to her father, then died. This seems innocuous, but—and this is because I'm an intuitive writer and don't know how my books end, much less the entire trilogy—it turned out to be crucial to the plot later in book three, The Promised Queen. It took me three books to find out all of Lia's secrets, and one of them had to do with who her mother is. So, I had a choice: go against my intuition and make the truth about her mother be something entirely else or fudge it somehow. Well, I wasn't going to go against the story's truth—especially when she hadn't even needed to say that to begin with—so I simply had her say that she'd lied. It made sense in context, and she's a wily and politically savvy queen who lies very well when she needs to, so it worked. But, if I could have, I would've gone back in time and simply deleted that line.
In addition to being an author, you also provide author coaching services. Actors often talk about hiring acting coaches to help them prepare for roles, but it seems more common for authors to rely on beta readers or their agents and editors when they need manuscript help. How might author coaching come in handy for aspiring authors?
What's funny is I'm not helping just aspiring writers. Some of my author clients are New York Times bestsellers with thriving careers. I'm helping them with their productivity in the long term, many of the same things I've been talking about here. That said, I think aspiring authors can benefit from the help in learning to build those same writing habits, and in receiving positive accountability for their work.
A good coach can be on the positive reinforcement side, cheering the writer on and showing by example how to build that space to allow inspiration to flow in.
Critique groups and beta readers can be helpful, too, but they are—by their nature—a mechanism for pointing out problems. A good coach can be on the positive reinforcement side, cheering the writer on and showing by example how to build that space to allow inspiration to flow in.
I will caution readers here that there are a lot of predatory "coaches" out there. There are a lot of unsavory types in general looking to cash in on the dreams of aspiring creatives. Be very careful in vetting those people!
[Editor's note: This interview was conducted in November 2020.]
Thank you so much for sharing your thoughts with PTM, Jeffe! And, readers, check out Part 2 of this interview, which covers self-publishing. 
Dive into Jeffe Kennedy's complete fantasy romance trilogy, Forgotten Empires (St. Martin's) here.
Keep up with Kennedy here:
Twitter: @jeffekennedy
Facebook: Author.Jeffe.Kennedy
Website: jeffekennedy.com