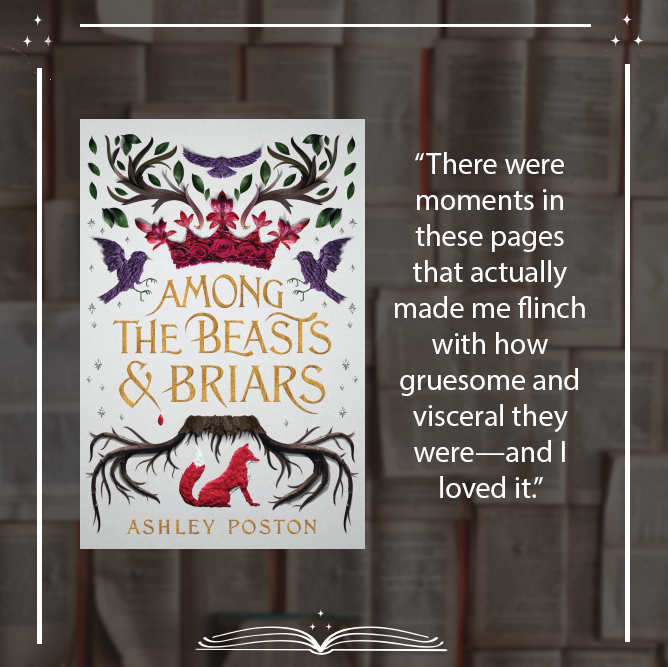 Ever since I was a little girl, I've been enamored with spooky stories set in the woods. So when I heard about the YA fantasy book, Among the Beasts & Briars by Ashley Poston (author of Geekerella and Heart of Iron), I knew I had to get my hands on a copy.
–Alanna Smith
Cerys, daughter of the royal gardener and best friend to the crown princess, lives in the kingdom of Aloriya: a prosperous and happy country surrounded by a dark and forbidden wood.
The enchanted crown worn by the royal family is meant to keep the kingdom safe, but a horrific attack from the woods on coronation day changes everything. Cerys is forced to flee into the hungry forest with no one but a loyal fox for a companion and her own magic blood for protection, searching for the lost Lady of the Wilds to save her home.
If it sounds like a fairytale, rest assured that Poston weaves a story filled with familiar tropes and symbols. There's a lost prince, an enormous bear, and a forgotten city in the forest. But she also makes the story her own. I've certainly never read a fairytale with monsters as horrifying as Poston's "bone-eaters" or mysterious ancients. There were moments in these pages that actually made me flinch with how gruesome and visceral they were—and I loved it.
Despite the terrors that haunt Aloriya, it's a hopeful and inclusive world, too. Characters listen to and respect each other. Princesses are friends with gardeners. An entire city celebrates the marriage of two brides. Poston uses this softness and beauty to balance out the downright scary and harrowing trials that she sends her characters through.
The book is not without its flaws, however. My first edition copy did, unfortunately, contain several typos and errors that should have been caught in line editing. I saw a few twists coming from pages away. And the whole book felt like it needed to be longer. Several key events are condensed into summary or flashback, which weakens the overall impact of the story. It's still a fun read, with witty banter and an immersive world, but it could have been truly great if it had only been expanded.
I'd recommend this book to anyone looking for the YA equivalent of Naomi Novik's Uprooted, to fans of the Cartoon Network miniseries Over the Garden Wall, and to anyone who loves getting lost in the woods.
Order it today from Indiebound or Barnes & Noble, or find the audiobook on Libro.fm.