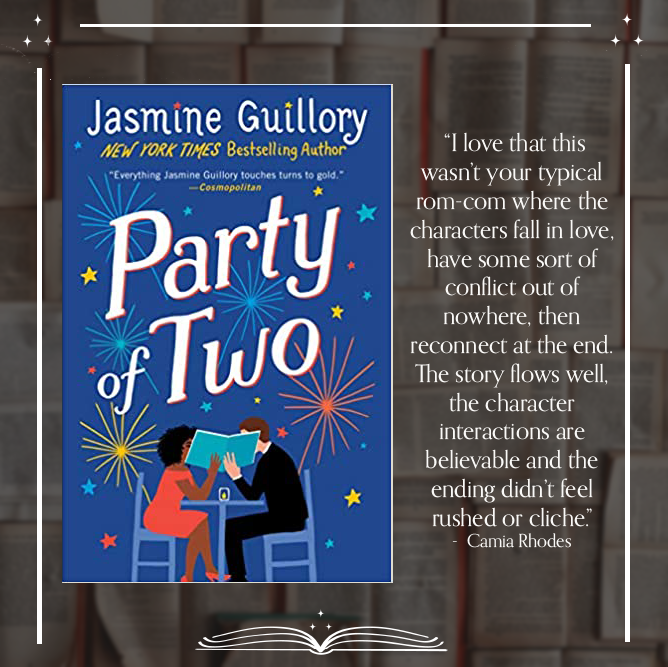 Party of Two is a modern-day romance with a political twist. Olivia, the career-focused lawyer, is not looking to date. So when a hot stranger starts engaging with her on which desserts are better, Olivia obliges him. That is, until she finds out he's Max Powell, the hot senator from California. But unbeknownst to her, Max isn't giving up without a fight and after Max sends a cake to her office, Olivia is hooked.
– Camia Rhodes
But Max isn't just passionate about desserts, he's also passionate about criminal justice reform and is currently working to pass a bill in Congress. Olivia admires that about him. He's also sweet, charming, a good listener, and an even better kisser. Olivia can be herself around him and doesn't have to hide her intelligence and what she does for a living (even though she lied that night at the bar). But Olivia knows that his life is always on full display, and dating him would put her life on display as well. She just wants to keep things casual, but on their second date, Max lets it slip that he is looking for a girlfriend, and she only has one week to think about how she feels about him.
In the end, Olivia agrees to see him again and to try out being his girlfriend. And for the first time she realizes there's depth to him. So much so, that she reveals to him her secret that she was arrested as a teenager. Suddenly, she feels closer to Max and wants to explore this relationship with him.
After several weeks of several amazing dates (not to mention amazing sex), Max and Olivia hit a snag in their relationship. Max is stuck in the Bay Area, and the two can't see each other. But then Max comes up with the idea for Olivia to come to visit her sister and just wait for him at the hotel when she's done. And as usual, Max charms her into saying yes. But Olivia knows it'll be well worth it. The next day, while Olivia and Max are out and about, they are spotted by a reporter from the San Francisco Chronicle and Max assures her that he can play it off. But it does beg the question, should they go public?
The next time they see one another—while the pie he's baking is in the oven—Max tells Olivia that he needs to talk to her. Olivia assumes that he's about to break up with her when it's the exact opposite. Max wants to go public with their relationship, and despite her reservations, she agrees. And for their first outing, they go to a Dolly Parton concert. At first, Olivia is supremely nervous, plastering on the weirdest smile, hoping to disguise her nerves. But once the concert begins, Olivia relaxes and thinks this whole "dating Max" thing isn't that big a deal.
However, her opinion quickly changes when she runs into one of her friends and she has to introduce Max. And that's kittens in comparison to all the calls she's now receiving at work. And to make matters even worse, people are asking her about her former arrest from when she was a teenager. Now Olivia is having second thoughts about them going public, and about dating Max altogether. Can their love really stand the scrutiny of the public? Or will Olivia have to let go of the love of her life to save her privacy, as well as who she is?
Honestly, there was so much to love about this novel. A realistic portrayal of a multiracial couple isn't very common in literature, let alone contemporary romance. Not only that, Party of Two is a political romance that showcases the struggle of dating a public figure and learning to deal with the persona one has to portray in public. I love that this wasn't your typical rom-com where the characters fall in love, have some sort of conflict out of nowhere, then reconnect at the end. A lawyer and a politician dating would struggle with balancing their jobs, their careers, and themselves in a relationship, especially a relationship so open to the public.
But what I truly loved about this book was the writing. Although I've only read three books in The Wedding Date series, the writing has come a long way from the first one. The story flows well, the character interactions are believable, and the ending didn't feel rushed or cliche. You should give this book a read.
Order it today from Indiebound or Barnes & Noble, or find the audiobook on Amazon.