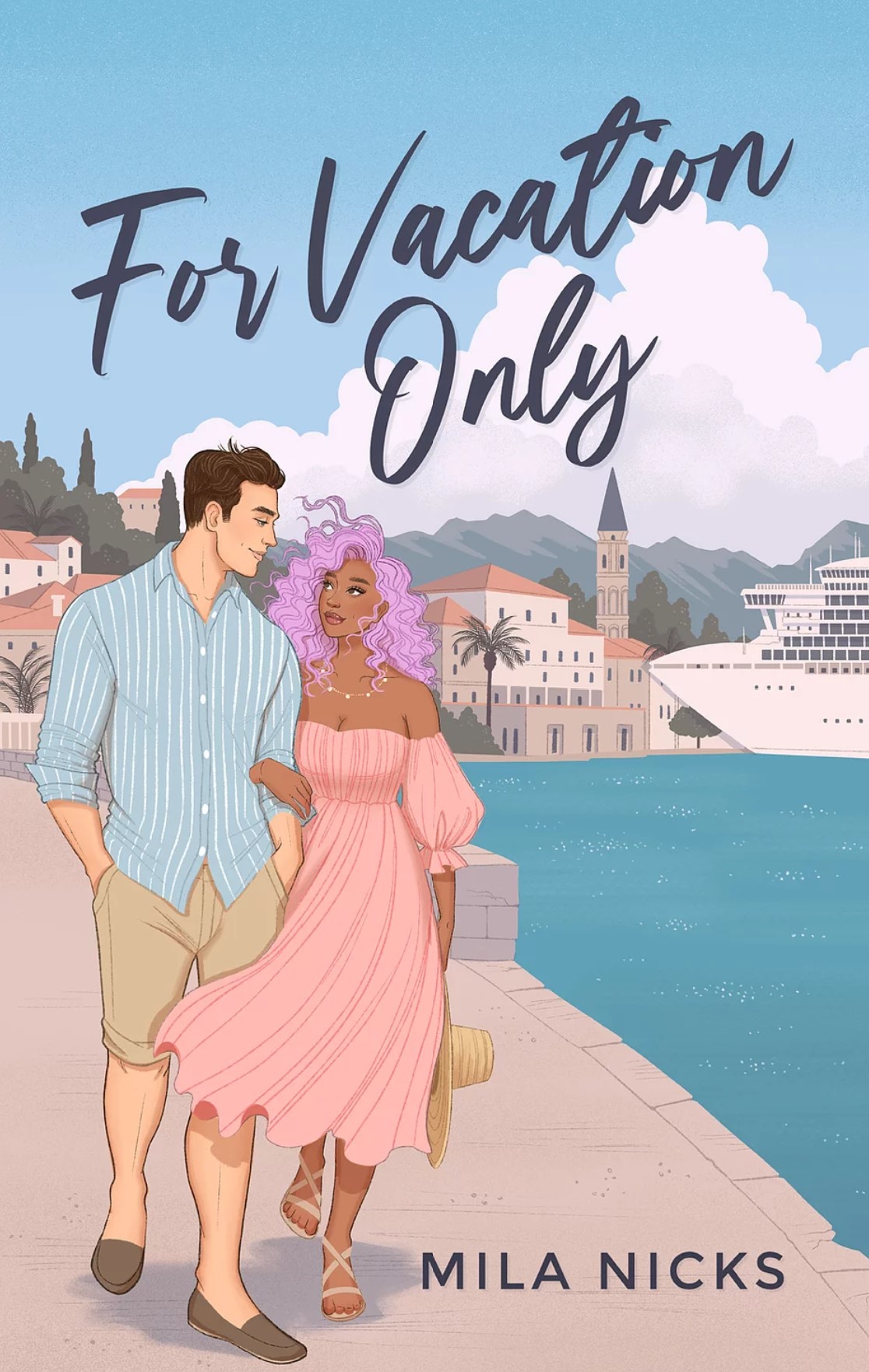 A must have summer read that you won't want to put down, For Vacation Only, by Mila Nicks, explores love and self-exploration through the eyes of someone rich and someone creative, showing us that we're all not so different when it comes to wanting to be loved and accepted. —Camia Rhodes
I felt for our leading man, Blake. No matter who you are, it sucks to be left at the altar with a note left on the back of a placecard. It's like that time in Sex & the City when Carrie got dumped by a Post-it. Yes, some of you understand Blake's pain. But he decides to go on his honeymoon without his bride-to-be. There, he's entranced by the sound of cruise ship's lounge singer Jubilee, forgetting all about his almost wedding.
I liked Blake's down-to-earth nature. He genuinely longed for the simpler things in life and wished to escape the demands and protocols of his rich life. Despite being wealthy and handsome, Blake was awkward when approaching Jubilee. So awkward in fact, he had toilet paper on the bottom of his shoe. But that's what made him so endearing.
No matter who you are, it sucks to be left at the altar with a note left on the back of a placecard.
Jubilee on the other hand, has dreams of her own. She plans to be more than just a lounge singer on a cruise ship. She's tired of being the failure of her family. Especially in comparison to her successful lawyer sister, Adele. Finally landing a solo on the strange ship, Seven Seas Diamond, this is her chance to show people what she can do.
Despite her resolve to focus on her singing career, Jubilee is distracted by Blake. How can someone so good looking and rich be this adorable and sweet? And although she likes him, and it's clear he likes her, Jubilee decides things should remain fun and casual between them, because she believes a relationship could never work between them.
I disliked Jubilee for this. She makes his money an issue between them instead of trying to understand Blake. Blake is considerate and truly tries to hear her and make amends. When Blake's father's friends snub her, he chases after her and they eat tacos for their first date. On their next date, while he does rent out the restaurant, it's so they can cook a meal together and so Jubilee can feel comfortable.
True, he does throw his money around to solve problems, yet when she tells him that it bothers her, Blake takes active steps to not continue with old habits. But Blake certainly isn't apologizing for being wealthy either. He speaks his mind and makes his intentions clear and doesn't let their discrepancies come between their budding romance. For the first time in his life, Blake is truly free to be himself and do what he wants. He basically is the male, modern day equivalent to Princess Jasmine.
While I dislike Jubilee's prejudice and love Blake, I felt the characters were realistically written. And even though there is a point where the novel turns into an episode of Three's Company, both Blake and Jubilee have internal and external conflicts to resolve before they can be together. Blake must let go of pleasing his family and giving in to the pressures of protocol and Jubilee has to overcome her insecurities and truly put herself out there, both for her career and for love. For Vacation Only is an excellent read to take with you on any vacation. You can experience a cruise and the sights all from the comforts of your home and it's an amazing love story. Most importantly, For Vacation Only will change your views on those who have and those who don't as well as your view on love.
Order For Vacation Only today from Amazon.