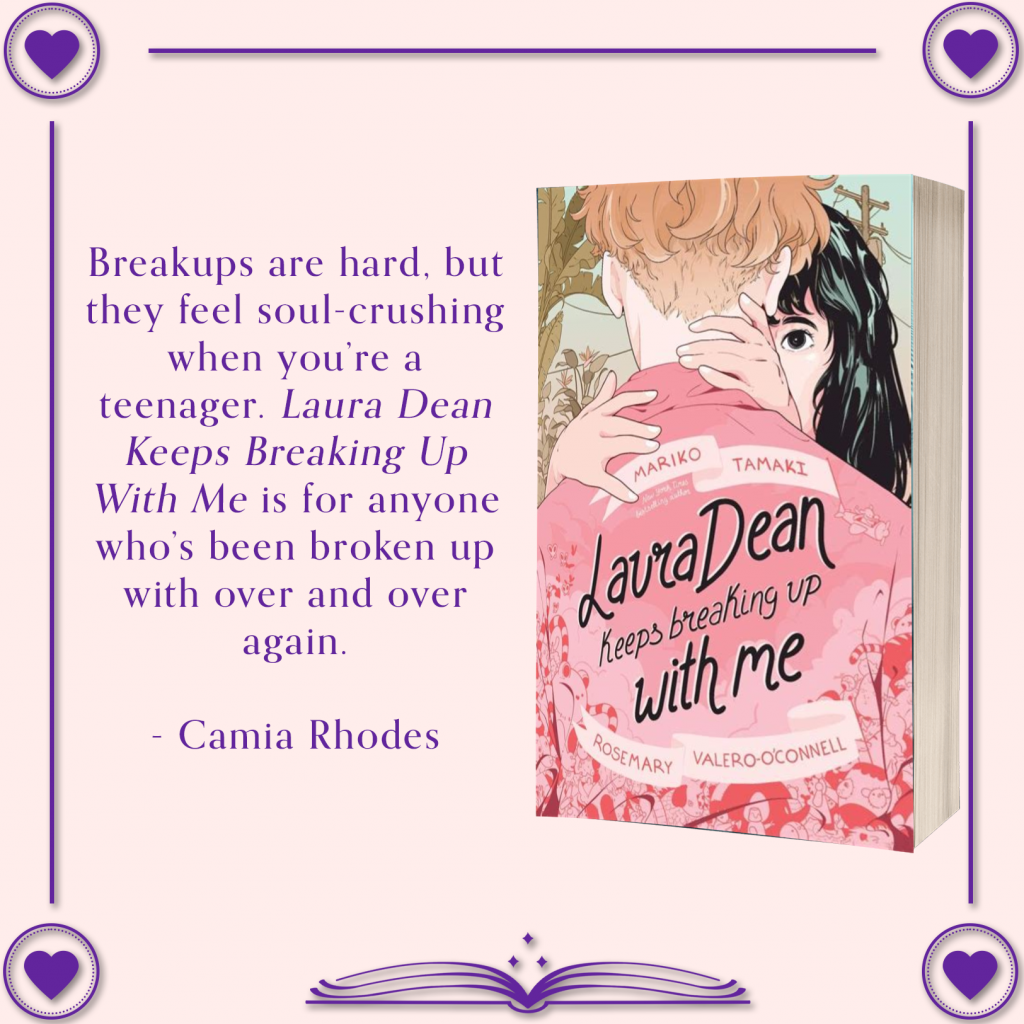 From the title, Laura Dean Keeps Breaking Up With Me, we already know this isn't going to end well. However, the cover is misleading. We're met with bright, springy pastels and Laura Dean and Freddy embracing each other. We are made to believe that Laura Dean and Freddy could possibly work it out, so why does Laura Dean keep dumping Freddy? According to author Mariko Tamaki, she "always liked the idea of an ex-ex-girlfriend story, about the girl that got away and then shows up a week later with a smile like nothing happened," and her relationships when she was younger "weren't fairy-tale girl-meets-girl, girl-finds-true-love-type things. They were a mess." (https://www.latimes.com)
And we all know how messy teenage love can be—especially the break ups. Even if you haven't been broken up with repeatedly by the same person, a breakup is a breakup, and you can't help but obsess over that person you still love who doesn't seem to love you anymore. And no one understands this better than Freddy, Laura Dean's now ex-girlfriend.
Freddy is at her prom when she catches Laura Dean cheating on her. Immediately the reader is thrown into the drama and they get a sense of who Freddy and Laura Dean are. If you hate Laura Dean, you're not alone. Freddy has the love and support of all her friends to help her get through this teenage tragedy—as well as the girl from the donut shop that Freddy hasn't noticed before. Unfortunately, Freddy, like most teenagers, can't help but fixate on Laura Dean. Just because they broke up doesn't mean she stopped loving Laura Dean. The problem with that is Laura Dean keeps popping back into Freddy's life, meaning that they get back together, and Freddy begins to ignore her friends again, centering all her focus on Laura Dean. Until finally, one by one, her friends drift away from Freddy and she's left with only the heartache of loving Laura Dean. Or at least she would be if it weren't for the friendship she strikes up with the donut shop girl, Vi. Now, Freddy is thinking about someone else besides Laura Dean. Not only that, she's beginning to realize maybe Laura Dean isn't good for her, and she needs to reconnect with those who truly matter and cut Laura Dean out of her life.
Breakups are hard, but they feel soul-crushing when you're a teenager.
One of the things I love about graphic novels is how you can see the characters' emotions. A text bubble becomes sharper and bolder with jagged edges to signify when a character is angry. And the color scheme is wonderful. Everything important to Freddy is in pink and things Freddy is unsure about are either covered in gray or against a black backdrop. The only thing that didn't gel well was the quick turnaround of Freddy's feelings toward Laura Dean. It felt like it came about very quickly, however, with the pacing of this graphic novel, that makes sense. If this were a full novel, the reader would have had more time to sit with the characters but since this is a graphic novel, everything moves at a rather quick pace. So even though Freddy's resolution comes quickly, so does everything else in the novel.

Breakups are hard, but they feel soul-crushing when you're a teenager. Laura Dean Keeps Breaking Up With Me is for anyone who's been broken up with over and over again. For anyone who has been stuck in the same cycle of heartache and wants to escape but doesn't know how. So if that's you, this graphic novel is for you. A four out of five star rating if you ask me.
Order Laura Dean Keeps Breaking Up With Me today from Indiebound, Barnes & Noble, or Amazon.