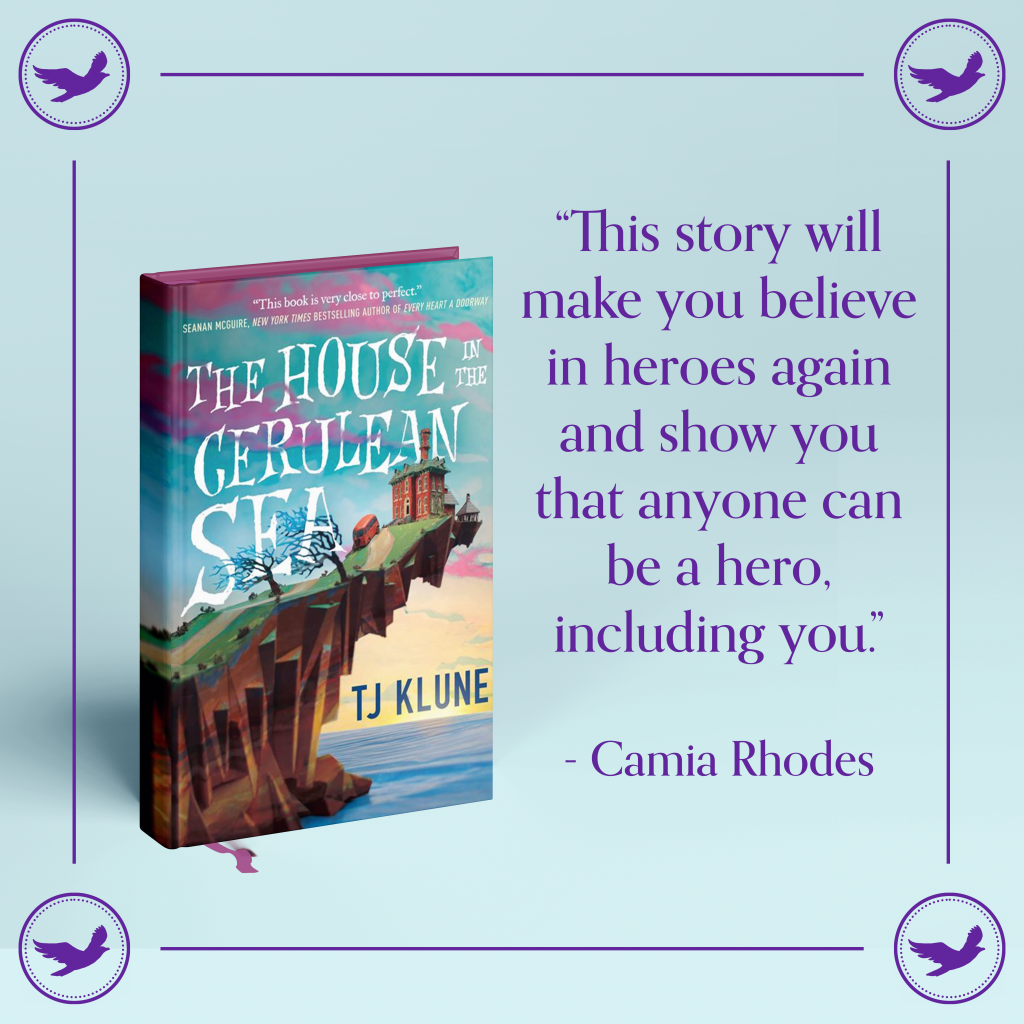 The House in the Cerulean Sea by TJ Klune was unlike any story I've ever read before. Though there is a lot of Magical Realism sweeping through bookstores, this does something the others don't. For one thing, the magic isn't heavily focused. And two, the magic they are referring to is the youth who are beings or have powers we the reader are familiar with. Thus it isn't such a stretch to imagine these magical beings in our world.
But what really works for this book is Linus Baker, a caseworker for the magical youth from the Department in Charge of Magical Youth, or DICOMY for short. DICOMY is a government agency that requires all magical beings to be registered, and any youth cast aside without a home were sent to orphanages. That's where Linus comes in.
Linus is a straitlaced, no nonsense, by-the-book kind of guy. So much so that he even purchased his own copy of the RULES and REGULATIONS of DICOMY. But Linus also believes that all children should be protected, no matter who they are. However, this belief gets challenged when Extremely Upper Management sends him on a top secret assignment to an orphanage on an island, housing the most exceptional magical youth.
Linus has a job to do, and he won't be deterred by a spindly, jovial, Willy Wonka-esque, attractive man. Easier said than done.
There, Linus meets Zoe (a sprite and true owner of the island), Talia (a gnome, who constantly threatens to bury him), Sal (a shy teenage boy who transforms into a dog when frightened), Phee (a forest sprite with definitely some bite to her bark), Chauney (a tentacled creature that no one can identify but dreams of being a bellhop), Theodore (a wyvern who loves buttons), and Lucy, short for Lucifer (a very smart boy who loves playing up his namesake). And then there's Arthur Parnassus, the master of Marsyas Orphanage, whom Linus can't stop staring at. But Linus has a job to do, and he won't be deterred by a spindly, jovial, Willy Wonka-esque, attractive man. Easier said than done.
Linus tries to be the authority within the Marsyas Orphanage, but Arthur isn't having any of it. Their back and forth is very cute. Linus tries to gain control and Arthur just keeps him riled up or flustered until he smacks Linus down with the hard questions, and then Linus is just flummoxed. Arthur does all this with a smile. I like that we get to see Linus out of his element and see a budding romance. Though the book has some heavy themes, there are moments of levity with Arthur's flirting and Linus blushing. Not only that, but the book also uses humor to lighten up the heavy themes present. Linus can be quite humorous in his inner monologues, but it's the kids that steal the show. They all each have their own way of picking on Linus when he arrives, yet as they get to know him and he gets to know them, there's real comradery built between them. All this lightheartedness makes the darker themes of the book more palatable and makes for an enjoyable read.
In a lot of fantasy genres, whether in literature or television/film, the hero has moments of doubt, but it's never in the fact that they are a hero. However, Linus doesn't believe he's special or can do much of anything. And the book doesn't try to push Linus into actively playing the hero right away. Though he does care for children, Linus has some of the same prejudices the people of the village near the orphanage do. However, when faced with this prejudice, he does stand up for the children and shuts down anyone that tries to mistreat them, including himself. Linus never lies to the children but does try to shield them from what his visit insinuates; he's also patient with the children and never yells at them.
Any one of us could be Linus, and just like him, we could be the change we wanted to see.
I think the book does a good job of showing the nuances of prejudice. Linus is prejudiced against the children yet remains professional and even kind when around them. He tries not to let his preconceived notions show. Whereas the villagers flat-out stare and sneer at the children, as well as Arthur, Zoe, and eventually Linus. Then there's DICOMY, who claim to have the children's best interest at heart but are the exact same people who created the sign SEE SOMETHING SAY SOMETHING regarding magical beings.
I liked that we didn't get a traditional hero in this story. Linus wasn't going on a long journey to save the world or finding a magical emblem or weapon that would vanish evil. Linus was a caseworker, an ordinary man just doing his job who actively decided to change things for the better. And that's what makes this so relatable. Any one of us could be Linus, and just like him, we could be the change we wanted to see. I loved this book more and more with every turn of the page. The House in the Cerulean Sea is an expected coming-of-age story with hints of romance and self-acceptance. This story will make you believe in heroes again and show you that anyone can be a hero, including you. But most importantly, this book is about learning to overcome prejudice both inside and out. The House in the Cerulean Sea is a wonder for all ages.
Order The House in the Cerulean Sea today from Indiebound, Barnes & Noble, or Amazon.